Walking to Presence
Three Decades on the Camino
Enjoy the March 2023 interview - Three Decades on the Camino - I did for Dave Whitson's The Camino Podcast series reflecting on a number of topics on the Camino, my research and experiences along the way as well as my role as a guide and teacher on the Camino over the last 30 years. Dave is a teacher, group leader and Camino veteran from Portland, Oregon. It was a pleasure to speak with him. Thank you, Dave!
https://soundcloud.com/user-939742370/episode-67-three-decades-of-pilgrim-stories
Reading Further on the Benefits of Walking & How the Internet Age is Changing the Human Experience
Reading Further on Two Topics: 1) The Power of Walking in the Human Experience; and
2) How the Internet Age is Changing the Human Experience

By Nancy L. Frey, PhD
March 2018
To read further on the benefits of walking and how digital age technologies are impacting our daily lives, here is a list of references – books, articles and websites. This list is by no means a complete list of references on the topic and I update this list periodically.
BOOKS ON THE POWER OF WALKING IN THE HUMAN EXPERIENCE:

Gros, Frederic. 2014. A Philosophy of Walking. Verso.
Originally published in French in 2011, this work from a philosopher's point of view emphasizes the benefits of the simple life and the power the simple act of walking, of putting one foot in front of the other, has on our psyches.
Hanh, Thich Nhat. 2015. How to Walk (Mindfulness Essentials #4). Parallax Press.
A simple guide written by a Buddhist monk who approaches walking as a meditative practice to help the individual achieve presence: "When you walk, arrive with every step. That is walking meditation. There's nothing else to it." He offers simple, clear ideas to make walking a practice that will calm and soothe your overworked, distracted mind.
O'Mara, Shane. 2019. In Praise of Walking. The new science of how we walk and why it's good for us. London: The Bodley Head
This neuroscientist from Dublin describes walking as a mental and physical activity fundamental to the human experience and expounds the numerous benefits walking has for our health, creativity, emotional well-being and thought processes.
Solnit, Rebecca. 2000. Wanderlust: A History of Walking. NY: Viking
A significant treatise on walking covering many disciplines to trace the history of walking through the ages that emphasizes the importance of how we need to keep walking despite our accelerated lives.

BOOKS ON HOW THE INTERNET IS IMPACTING HUMANITY:
Carr, Nicholas. 2011. The Shallows. What the Internet is Doing to Our Brains. NY: WW Norton.
Crawford, Matthew. 2015. The World Beyond Your Head. On Becoming an Individual in an Age of Distraction. NY: Farrar, Straus and Giroux
Diamond, Jared. 2012. The World Until Yesterday. NY: Penguin
Gazzaley, A., & Rosen, L. D. 2016. The Distracted Mind: Ancient Brains in a High-Tech World. Cambridge, MA: MIT Press.
Harari, Yuval Noah. 2017. Homo Deus: A Brief History of Tomorrow. NY: Vintage
A must read on how humanity is evolving towards its cyborg future. What's happening on the Camino is simply a reflection of the world writ-large. It may be disturbing to some readers by his blunt approach but his ideas are worth reflecting on.
Harari, Yuval Noah. 2018. 21 Lessons For the 21st Century. Spiegel & Grau
"In a world deluged by irrelevant information, clarity is power. Censorship works not by blocking the flow of information, but rather by flooding people with disinformation and distractions. 21 Lessons for the 21st Century cuts through these muddy waters and confronts some of the most urgent questions on today's global agenda." (Quote from Harari's website about the book: https://www.ynharari.com/book/21-lessons/)
Laramie, David, 2007. Emotional and Behavioral Aspects of Mobile Phone Use. (PhD diss., Alliant University International, 2007)
Lightman, Alan. 2018. In Praise of Wasting Time. TED Books: Simon & Schuster.
"Our most important human capacities - for creativity and our relationships to ourselves and others - are under attac by our preoccupation with our devices. We need new practices to turn this around and reclaim our humanity. Lightman's special achievement is to make this familiar story come alive with personal urgency and new clarity. What has for too long seemed like a contentious position is here presented as compassionate common sense. For isn't it simple commeon sense to do what will make us stay human?" Sherry Turkle's review on back jacket. Very well said. This book is a great companion to the book referenced above - In Praise of Walking- put them together and it all makes sense.

Miller, D, et.al. 2016. How the World Changed Social Media. London: UCL Press. Link to online pdf version: http://discovery.ucl.ac.uk/1474805/1/How-the-World-Changed-Social-Media.pdf The main volume (of 11 titles) in the Why We Post (see website below) ethnograpy series focusing on global social media use.
Soojung-Kim Pang, Alex. 2013. The Distraction Addiction. Getting the Information you Need and the Communication You Want. Without Enraging Your Family, Annoying Your Colleagues, and Destroying Your Soul. NY: Little Brown
Steiner-Adair, Catherine. 2013. The Big Disconnect. Protecting Childhood and Family relationships in the Digital Age. NY: Harper
Turkle, Sherry. 2011. Alone Together. Why We Expect More from Technology and Less From Each Other. NY: Basic Books.
WEBSITES:
ASSA - Anthropology of Smartphones and Smartageing
Ambitious cross-cultural, comparative project aimed to explore ageing, health and smartphone usage in 10 different field sites around the world (North America not included). With the rise of mobile phone usage around the world researchers are now developing the field of "digital anthropology". The 5-year project began in October 2017 with fieldwork commencing in Feb 2018. From the site: "For us 'smart ageing' means recognising that middle-age is being re-defined in the digital era, including via the creative appropriation of technology." The project is sponsored by the University College of London.
https://www.ucl.ac.uk/anthropology/assa/
Digital Detox - http://digitaldetox.org/
Started by form Silicon Valley tech employees who realized how the digital world impacted adversely the human experience. They founded a company to help people "detox" from their devices by creating tech free weekends for adults. Read the Digital Detox manifesto: http://digitaldetox.org/manifesto/
Why We Post: Social Media Through the Eyes of the World
A University College of London (UCL) project to explore, employing anthopological methodology, social media usage and its consequences cross-culturally. "We need to understand the consequences of social media for people all around the world" and not assume that usage and meaning can be universally defined. The project began in 2016. The website provides "discoveries" of the global researchers' investigations, such as,
1) "Social media is not making us more individualistic"; 4) "Equality online doesn't mean equality offline"; 10) "Social media has created new spaces for groups between the public and private."
https://www.ucl.ac.uk/why-we-post
ARTICLES SPECIFIC TO THE CAMINO:
Walking the Camino in the Age of Wi-Fi
Challenger, Douglas. 14 May 2016, Blog: Onbeing.org
Great reflections on the Camino
https://onbeing.org/blog/walking-the-camino-in-the-age-of-wi-fi/
Leaving Home and Coming Back: Reflections on Doing the Camino Pre-Internet and in 2018
Frey, Nancy L, In the book by ed. Priestley, Andrew. 2018 (Aug). My Camino Walk #2, pp. 153-169. UK: Writing Matters Publishing.
Reflective personal piece that I wrote looking back on my 1993 Camino and my experiences pre-Internet and how my mental isolation from my home life, incredibly difficult to achieve now in the Internet Age, was crucial in the profound changes and insights that I experienced on that first journey. I have posted a link to the article on the Walking to Presence website HERE!
Thoughts on Camino Apps
Jennings, David. La Concha Newsletter, Winter 2014, p. 16 (www.americanpilgrims.com)
Reflection piece after taking a tech survey:"Solitude and the commune with nature give voice to the inner person. Now, we are asked what technical instruments, what apps, do we need to make the pilgrimage? Who could ever imagine a pilgrim needing an app to find a restroom? Is there an app for living responsibly, for overcoming greed and ego?"
Experience of the Camino in 8 words
Marion, 16 Aug 2017, Blog: Santiagoinlove.com
Blog entry on lessons from Camino from a blog called Santiago in Love.Well-stated words of wisdom from the Camino
http://santiagoinlove.com/en/experience-of-the-camino-in-8-words/
Learning to Live Without Technology on the Camino de Santiago
Támara, E.J. 10 Sept 2015, Mashable.com
" while the ideal of a simple life without technology is seductive, the reality was complicated. Hiking without so much as a watch can make you feel insecure, stressed and fearful. And the use of technology by others at times made it impossible for me to avoid it."
https://mashable.com/2015/09/10/hiking-the-camino/#ZZdvBhu8REqt
Pilgrimage: Ancient Practice Now with Some Modern Tensions
Watkins, Steven. 8 October 2017 (Retrieved 1 Dec 2018), Blog: Stevewatkins.org
Interview between the blog's author Steven Watkins and the Communication PhD student Roni Jackson-Kerr discussing her research on the role of tech in pilgrimage along the Camino de Santiago. She argues that the "tension between convenience and presence" in using digital devices is an important factor for pilgrims in the Internet Age.
https://stevewatkins.org/2017/10/08/pilgrimage-ancient-practice-now-with-some-modern-tensions/
GENERAL ARTICLES:
Beyond Self-Report: Tools to Compare Estimated and Real-World Smartphone Use.
Andrews Sally, Ellis DA, Shaw H, Piwek L (28 Oct 2015: Plos One)
Academic article dealing with inconsistencies between self-reported and real smartphone use. "We conclude that estimated smartphone use should be interpreted with caution in psychological research."
https://journals.plos.org/plosone/article?id=10.1371/journal.pone.0139004
Will 2018 be the year of the neo-luddite?
Bartlett, Jamie. 4 Mar 2018, TheGuardian.com
https://www.theguardian.com/technology/2018/mar/04/will-2018-be-the-year-of-the-neo-luddite
The Cognitive Benefits of Interacting with Nature
Berman, Marc G, John Jonides, and Stephen Kaplan. Psychological Science, 19, no. 12 (December 2008): 1207-12.
https://pdfs.semanticscholar.org/5cef/86418e03740fc1a77eff6ba0b10541a2e223.pdf
What is the role of dopamine in reward: hedonic impact, reward learning, or incentive salience?
Berridge, Kent C. and Terry E. Robinson, : Brain Research Reviews, 28, 1998. 309–369
https://www.ncbi.nlm.nih.gov/pubmed/9858756
The Binge Breaker. Tristan Harris believes Silicon Valley is addicting us to our phones. He's determined to make it stop.
Bosker, Bianca. Nov 2016, TheAtlantic.com
https://www.theatlantic.com/magazine/archive/2016/11/the-binge-breaker/501122/
Silicon Valley Is Not Your Friend
Cohen, Noam. 3 Oct 2017, New York Times
"We are beginning to understand that tech companies don't have our best interests at heart. Did they ever?"
https://nyti.ms/2kJ5UJm
Explosion In Sex Dolls Threatens Japanese Race With "Extinction"
Durden, Tyler. 25 July 2018. Website: www.zerohedge.com
Part and parcel of our digital dependency is a preference for the company of artificial intelligence rather than potentially complicated human interactions. Not a very good boon for humanity's future.
https://www.zerohedge.com/news/2018-07-24/explosion-sex-dolls-threatens-japanese-race-extinction
'It's a superpower': how walking makes us healthier, happier and brainier
Fleming, Amy. 25 July 2019, Website: TheGuardian.com Retrieved: 2 August 2019

Another article focusing on the mental, emotional and physical benefits of walking based on neuroscientist Shane O'Mara's work and practice. His book In Praise of Walking (Vintage, June 2019) describes how our minds and bodies in motion increase our well-being and creativity.
https://www.theguardian.com/lifeandstyle/2019/jul/28/its-a-superpower-how-walking-makes-us-healthier-happier-and-brainier?fbclid=IwAR1ADPDesKKOdCjxfaYSjrLopu8FXWSvwQw6ukHPQnpWFgTkbz9PXNqm1Ec
Record Numbers of College Students Are Seeking Treatment for Depression and Anxiety - But Schools Can't Keep Up
Hendriksen, Ellen. 18 Mar 2018, Website: Time.com

http://time.com/5190291/anxiety-depression-college-university-students/
Yonquis de internet: las redes sociales admiten el truco para engancharte
Herrero, Amado. 10 Enero 2018, ElMundo.com
http://www.elmundo.es/papel/historias/2018/01/10/5a54e966e2704e7c6a8b4597.html
'Our minds can be hijacked': the tech insiders who fear a smartphone dystopia
Lewis, Paul. 6 Oct 2017, TheGuardian.com
"Google, Twitter and Facebook workers who helped make technology so addictive are disconnecting themselves from the internet. Paul Lewis reports on the Silicon Valley refuseniks alarmed by a race for human attention."
https://www.theguardian.com/technology/2017/oct/05/smartphone-addiction-silicon-valley-dystopia
Levi Felix, a Proponent of Disconnecting from Technology, Dies at 32
Mele, Christopher. 12 Jan 2017, New York Times (www.nytimes.com)
Former Silicon Valley success and founder of the company Digital Detox says in article: "I'm a geek, I'm not a Luddite," Mr. Felix told The Times in 2012. "I love that technology connects us and is taking our civilization to the next level, but we have to learn how to use it, and not have it use us."
https://www.nytimes.com/2017/01/12/us/obituary-levi-felix-digital-detox.html
Sean Parker on Facebook: 'God only knows what it's doing to our children's brains'
Ong, Thuy. 9 Nov 2017, TheVerge.com
"Sean Parker former Facebook exec admits to creating addiction among users. Sean Parker, the founder of Napster and former president of Facebook, said the thought process behind building the social media giant was: "How do we consume as much of your time and conscious attention as possible?" Parker was interviewed by Axios' Mike Allen Wednesday:
"That means that we needed to sort of give you a little dopamine hit every once in a while because someone liked or commented on a photo or a post or whatever ... It's a social validation feedback loop ... You're exploiting a vulnerability in human psychology ... [The inventors] understood this, consciously, and we did it anyway."
"Parker says the social networking site exploits human psychological vulnerabilities through a validation feedback loop that gets people to constantly post to get even more likes and comments. "It's exactly the kind of thing that a hacker like myself would come up with, because you're exploiting a vulnerability in human psychology," he said. "The inventors, creators — it's me, it's Mark [Zuckerberg], it's Kevin Systrom on Instagram, it's all of these people — understood this consciously. And we did it anyway." In other words, using Facebook is like junk food: you get instant gratification when you post for likes and comments. It's quick and easy but has little substance."
https://www.theverge.com/2017/11/9/16627724/sean-parker-facebook-childrens-brains-feedback-loop
Social Media Is Making Us Dumber. Here's Exhibit A.
Pinker, Steven. 11 Jan 2018, Editorial New York Times.com
"Steven Pinker is a liberal, Jewish professor. But social media convinced people that he's a darling of the alt-right."
https://www.nytimes.com/2018/01/11/opinion/social-media-dumber-steven-pinker.html
How Technology Makes Us Anxious. 5 ways technology feeds anxiety.
Reilly, Katie. 27 Mar 2018, Website: PsychologyToday.com
Reflecting on a study of 1 million American teens that shows that their online screen time negatively impacts their mental state, the author comments on how tech insulates the individual from reality leaving them more vulnerable, insulates the individual from other people thereby decreasing positive socialbility and social skills, and tends to lead to insecurities related to social media pressure and image consciousness - not meeting up to others' seemingly perfect and successful lives.
https://www.psychologytoday.com/intl/blog/how-be-yourself/201803/how-technology-makes-us-anxious
Phantom Pocket Vibration Syndrome: What does it tell us about our obsession with technology?
Rosen, Larry. 7 May 2013, PsychologyToday.com
https://www.psychologytoday.com/blog/rewired-the-psychology-technology/201305/phantom-pocket-vibration-syndrome,
The Art of Switching Off: How to Go Phone-Free.
Rossiter, Joanna. 26 Feb 2019, Life.Spectator.co.uk
Reflections by a journalist on what is to be gained from disengagement from your mobile phone. When she had her first baby she went tech-free for six months and found greater presence, productivity and awareness.
https://life.spectator.co.uk/articles/the-art-of-switching-off-how-to-go-phone-free/
Lorenzo Silva: por qué he dejado Twitter
Silva, Lorenzo. 10 enero 2018, ElMundo.com
http://www.elmundo.es/papel/firmas/2018/01/10/5a5353f8ca4741995a8b45a6.html
The Power of Presence, How "Living in the Now" Can Change Your Life
Stark, Allie. 25 Sept 2016, Collective-Evolution.com
Describes how leaving her phone at home one day allowed her to be more present and appreciate the world around her.
http://www.collective-evolution.com/2016/09/25/the-power-of-presence/
Tech Giants, Once Seen as Saviors, Are Now Viewed as Threats
Streitfeld, David. 12 Oct 2017, New York Times (www.nytimes.com)
"American tech companies positioned themselves as entities that brought positive change by connecting people and spreading information. Perceptions are shifting."
https://www.nytimes.com/2017/10/12/technology/tech-giants-threats.html?emc=eta1
Google Doesn't Want What's Best for Us
Taplin, Jonathan. 12 Aug 2017, PsychologyToday.com
"America has held a largely romantic view of the tech industry that is at odds with reality." https://nyti.ms/2uQROWg

Decreases in psychological well-being among American adolescents after 2012 and links to screen time during the rise of smartphone technology.
Twenge, JeanM., Martin, Gabrielle N., Campbell, W. Keith. Emotion, Vol 18 (6), Sep 2018, 765-780.

The online abstract reads: "In nationally representative yearly surveys of United States 8th, 10th, and 12th graders 1991–2016 (N = 1.1 million), psychological well-being (measured by self-esteem, life satisfaction, and happiness) suddenly decreased after 2012. Adolescents who spent more time on electronic communication and screens (e.g., social media, the Internet, texting, gaming) and less time on nonscreen activities (e.g., in-person social interaction, sports/exercise, homework, attending religious services) had lower psychological well-being. Adolescents spending a small amount of time on electronic communication were the happiest. Psychological well-being was lower in years when adolescents spent more time on screens and higher in years when they spent more time on nonscreen activities, with changes in activities generally preceding declines in well-being. Cyclical economic indicators such as unemployment were not significantly correlated with well-being, suggesting that the Great Recession was not the cause of the decrease in psychological well-being, which may instead be at least partially due to the rapid adoption of smartphones and the subsequent shift in adolescents' time use. (PsycINFO Database Record (c) 2018 APA, all rights reserved)" Link to abstract and online reference: https://psycnet.apa.org/doiLanding?doi=10.1037%2Femo0000403
Why We're All Addicted to Texts, Twitter and Google. Dopamine makes you addicted to seeking information in an endless loop.
Weinschenk, Susan.. 11 Sept 2012, PsychologyToday.com
Good article from Psychology Today on how dopamine affects our brains and keeps us coming back for more. She references the Berridge, et,al, article (see above) on dopamine.
https://www.psychologytoday.com/blog/brain-wise/201209/why-were-all-addicted-texts-twitter-and-google
Big Other: Surveillance Capitalism and the Prospects of an Information Civilization.
Zuboff, Shoshana. Journal of Information Technology (2015) 30: 75-89, doi:10.1057/jit.2015.5. Link to online reference available at SSRN: https://ssrn.com/abstract=2594754

Abstract reads: "This article describes an emergent logic of accumulation in the networked sphere, 'surveillance capitalism,' and considers its implications for 'information civilization.' Google is to surveillance capitalism what General Motors was to managerial capitalism. Therefore the institutionalizing practices and operational assumptions of Google Inc. are the primary lens for this analysis as they are rendered in two recent articles authored by Google Chief Economist Hal Varian. Varian asserts four uses that follow from computer-mediated transactions: 'data extraction and analysis,' 'new contractual forms due to better monitoring,' 'personalization and customization,' and 'continuous experiments.' An examination of the nature and consequences of these uses sheds light on the implicit logic of surveillance capitalism and the global architecture of computer mediation upon which it depends. This architecture produces a distributed and largely uncontested new expression of power that I christen: 'Big Other.' It is constituted by unexpected and often illegible mechanisms of extraction, commodification, and control that effectively exile persons from their own behavior while producing new markets of behavioral prediction and modification. Surveillance capitalism challenges democratic norms and departs in key ways from the centuries long evolution of market capitalism."
Zuboff, an emeritus professor and currently associated with the Berkman Center for Internet and Society, makes very compelling arguments regarding the role of corporations, such as Google, invested in the commodification of information generated through utilization of their online products, in the development of new forms of power and social control which she dubs the Big Other, referring intentionally to Aldous Huxley's dystopian novel 1984 which imagined a world where people's lives were controlled by a totalitarian regime through dominating the world of information and media. Instead of Big Brother, we have the Big Other, where key players are evident in the process of information control but society in general is often unaware and even participatory in their own acceptance of 'surveillance capitalism' and commodification of their experiences which theerby generates enormous benefits for those companies that utilize and control data.
15 Tips for Keeping Your Head Out of the Cloud

15 Tips for Keeping your Head out of the Cloud:
Pilgrimage in Body AND Mind
By Nancy L. Frey, PhD
23 March 2018
In my article on pilgrimage in the Internet Age, I describe the changes I've witnessed in the Camino over the last 25 years. For me the most significant change is the rise of the Internet and the development of mobile technologies that have dramatically changed the mental experience of the 21st person, in general, and the Camino de Santiago pilgrim, in particular. The Camino is an ever-changing phenomenon (and has been since its birth in the 9th C) reflecting the salient issues of larger society in each period. I have had the great fortune of living through and researching the unfolding of these changes. For the most part, people are largely unaware that their digital habits potentially have a great impact on the pilgrimage experience due to the increased mental distraction the use of digital devices typically entails. How one uses a digital device greatly affects how one engages with the Camino, with oneself, nature, home, the world and the Camino community. While 21st C pilgrims are still physically present on the Camino in body, mentally they are "off the Camino" to a degree never before seen in the history of pilgrimage.
Here are 15 tips to help you reflect on ways to keep yourself "on the road" mentally rather than engage your mind with your mobile tech devices to the detriment of being present on the Camino. In reflecting on these tips and on how you can make choices to manage your digital devices, I hope you will be able to engage more deeply and fully with the Camino, yourself and others. Buen Camino! (***Caveat - go to end to see disclaimer about what this article is and isn't.)
Short Version. If you don't want to read the long version, please go to the end of the article for the 15 tips in a nutshell.
1) Pre-Camino Reflection
Before starting the Camino de Santiago pilgrimage, you might want to reflect on a few questions, such as: "Why do I want to go on the Camino?" What do "Camino" and "pilgrimage" mean to me? Am I looking for a profound inner journey? Do I want to walk and share my experiences with friends and family to have a shared, open Camino? Or, do I desire to "get away from it all" with some quiet, personal time away from the worries of the world? Is this a 'bucket-list' experience, or a religious or spiritual journey? Maybe you don't know. That's okay, too. People sometimes just feel drawn to the Camino without really knowing why. Nonetheless, reflecting on why you are going, may help you to make choices regarding the use of mobile tech that will make it easier to achieve your goals.
2) Motives Evolve on the Camino
Be aware that your initial reason for going on the Camino may evolve over the course of the journey. New spaces and places, experiencing new sensations and different ideas from others, as well as facing challenges can leave their mark. Consequently, the meaning of the journey can grow and develop as you go due to the reflections you make or changes you may experience from the beginning to the end (and then in the return) of the journey. Be open to these changes and allow yourself to adapt to the circumstances. Try to let go of the need to control all aspects of the journey and take them as they come. If adversity arises (which is normal), take a deep breath and try to deal on your own.
3) Self-Monitor Tech Usage Before the Camino
Studies show that people regularly self-assess their tech usage levels very poorly and generally underestimate their real time usage, number of daily pick-ups, and checking of devices. How and when do you use your tech? In what contexts do you find yourself using your tech? Self-analyze and reflect on when and how you use your tech – habit, need, boredom, work, discomfort, to communicate, check on others, etc. If you use your tech, for example, when you're bored at home, you'll probably use it on the Camino when you're bored, too. Ask yourself – why do I always keep my mind distracted? Studies also show that distracted minds typically don't feel as fully, don't reflect, don't focus as well and don't discover what's underneath the surface. What would happen, for example, if you allowed yourself to be bored and just be in that moment without having to "do something"? What might you discover? Is our tech usage a great way to distract ourselves from ourselves? If the thought is scary, causes anger or instant rejection that means it's probably a good idea to try and explore it.
Finally, ask yourself: Do I want to have a different relationship with mobile tech on the Camino than I do at home? Do I want to tell my boss/friends/family that I will not be taking calls, answering messages and being "on call" for what happens "back home/work"? If I do want to have a different relationship with tech on the Camino, how can I make that happen?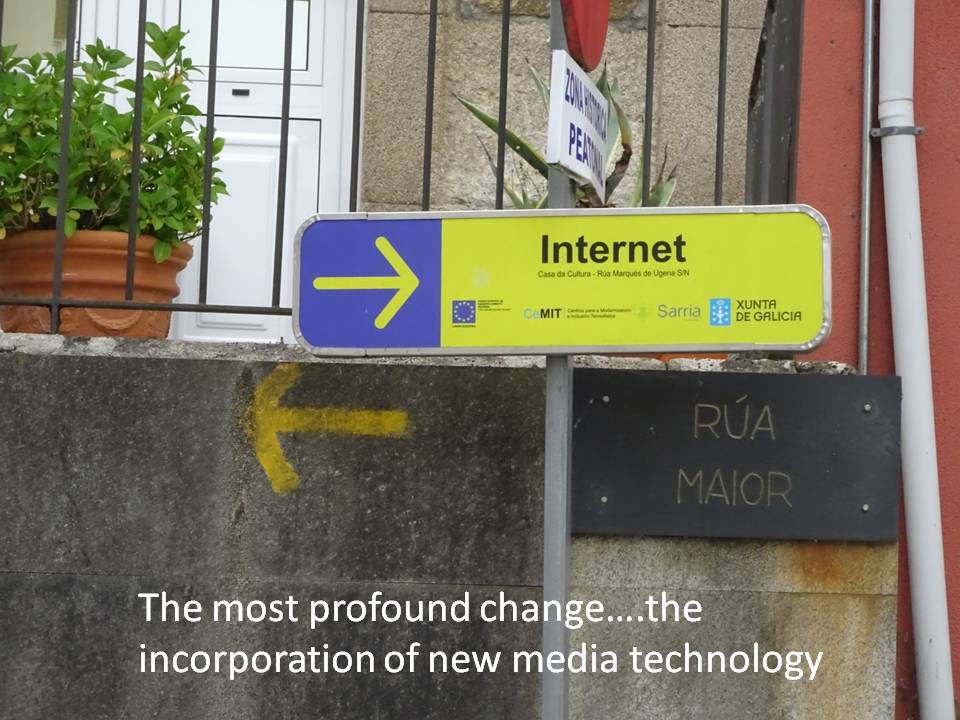 4) Camino Preparation
The explosion of information available on any topic in the Digital Age is astounding! While this has many positives, there are also plenty of negatives, ie, Information Overload which often confuses pilgrims and potentially increases pre-Camino anxiety. Walking the Camino is not like preparing for an Everest summit hike but many people would have you believe this to be true! One surprising observation I make in my research is how the perception of how difficult the Camino is to plan and do has increased inversely proportional with the increase in services and information available making it infinitely easier now in 2017 than it was in 1985 when the first guidebook to the Camino was published and there was no internet, very limited pilgrim accommodation and information available. In that 1985 guidebook there was one page of preparation information. By 2011 a new guidebook genre was born: how to prepare for the Camino. I ask in my 2017 article on Pilgrimage in the Internet Age: "Do you objectively need more help to do the Camino in 2016 than you did in the 1990s or have we made it more complicated than it is?"
What do I recommend in terms of preparation? Prepare but don't over-prepare! It is important to prepare mentally and physically for the Camino but it is also essential to draw a line on the amount of preparation, especially mental preparation. The hazard today is to OVERPREPARE mentally. It's essentially a control issue. Fear of the unknown is real, of course. Therefore, to try and diminish potential anxiety levels, preparing helps you to make the unknown a bit less unknown. The problem in the Internet Age is that you can know way too much about the unknown, so much that it takes away from your experience once you are there. DISCOVERY, SURPRISE and WONDER are an essential part of a journey and a pilgrimage is then a step into the unknown intentionally because, as a rite of passage, a pilgrimage entails some kind of personal trial, adversity, discovery, challenge to grow, and to learn and develop something new inside of oneself. Overpreparing also does not necessarily reduce anxiety and, in fact, can simply increase it!
For example, if you plan to go see a movie and before you go you watch the trailer, read reviews about the movie (often with spoilers) and comment on the movie in a forum even before you see it, how does that impact your first time viewing? Probably very significantly. It's the same with the Camino. If you spend hundreds of hours online (as people do) looking at every corner of the Camino, connecting through groups with other people, hearing about issues on the Camino ahead of you, posting on forums, what does that do to your experience of discovering it for yourself? Take it as it comes. People have always had pre-Camino jitters. The difference between pre-Internet and now is that pre-Internet you eventually had to let go as you did not have a device that allowed you to cling. Now we have devices (mental crutches) that allow us to fret and cling and consequently we don't choose to let go and allow ourselves to trust what might be, let experiences simply happen and discover many things about ourselves in the process.
With increased utilization and incorporation of mobile tech in daily life, there's an increased lack of trust in the self to deal with circumstances/adversity/life situations as they may arise. Rather the trend is to prepare for every single possible thing that might "go wrong". Simply scroll through popular threads on Camino community groups and the minutiae that people worry about gets progressively more detailed: poncho vs raincoat, toilet etiquette, 30 tips for newbies, how to make friends, pilgrim tattoos? There are just some things that you learn as you go and you don't need to fret about it ahead of time! Everyone starts green and must learn as they go!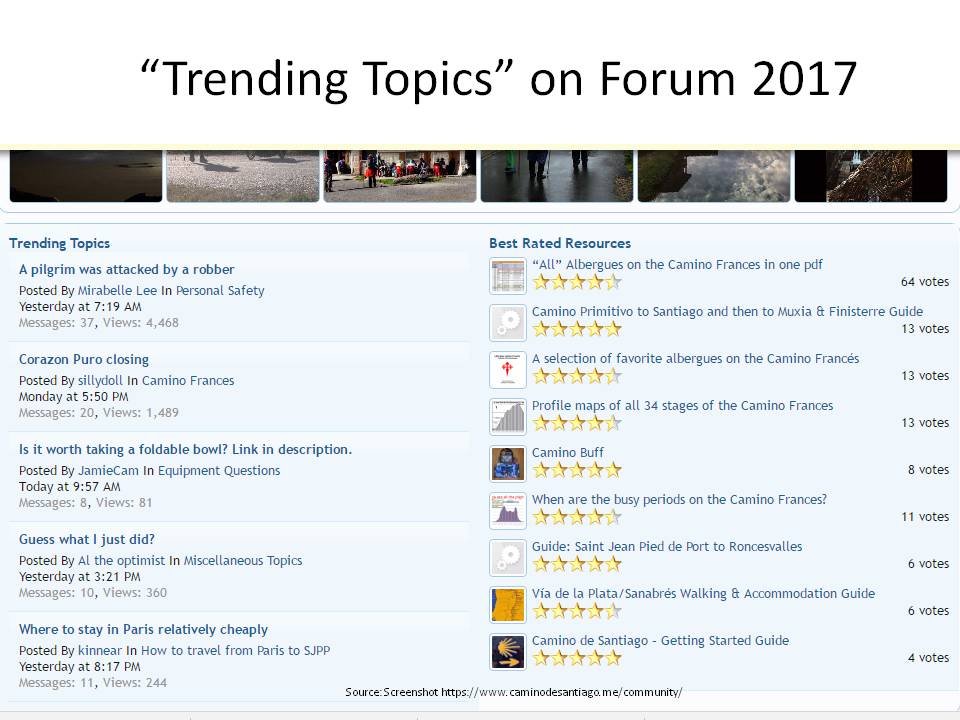 5) Communication with HOME: Family, Friends and Work
Before you go, discuss expectations and establish norms with friends, family and work about how to handle communication (in both directions) while you are away. Pre-Internet, home and the pilgrim accepted that contact would be limited. Separation from a loved one was rationalized by the adage: No news is good news. Nowadays, no news for a couple of hours sends some people into a panic. On the Camino our digital world allows instant connectivity between home and pilgrim in a way that never existed pre-Internet. Is this what you want? Do you want to have physical AND mental time away or do you want to be mentally at home and on the Camino simultaneously? Keeping up with family and friends through emails, photos, social media can be very time consuming and emotionally exhausting. Do you want to spend your time on the Camino that way? Also, do you want to be aware of everything going on at home (the cat in the tree, the failed math exam, the unpaid bill, etc), stuff you can do nothing about when you are physically away? Pre-Internet no one had to ask themselves these questions because home and the traveler/pilgrim had a clear break and separation that lasted for an extended period of time (except for occasional letters or phone calls in the 20th C).
Another old adage was "Distance makes the heart grow fonder." Having real mental distance and physical time away, allows you to look at your relationships more clearly and to feel more powerfully emotions of longing and love or perhaps relief and joy at being separated. The mental and physical distance helps you get necessary perspective on your life. If you're always mentally connected on the Camino with loved ones through texting, emails, photos, updates, etc, you make it very difficult for yourself to get the necessary mental distance to reflect on the deeper meanings of your relationships.
Would potentially limiting your communications with family be difficult? Probably, yes, but we return to the idea that some mental distance and adversity on a pilgrimage/journey is good and necessary. Pilgrimage is typically tough both mentallyand physically. It's a powerful rite of passage where the self is often tested. Mobile tech allows us to reduce the mental trials inherent in rites of passage that have characterized the human experience since time immemorial. There is nothing wrong with feeling lonely, bored, sad and/or doubtful AND it is a completely normal part of the process! Many people find themselves emotional, confused or crying on the Camino and they don't know why. That's okay. It is a typical part of a pilgrimage process (rite of passage) when you are outside of your comfort zone, away from your normal life and are in the process of challenging cherished held ideas, or pushing yourself in new ways or questioning who you are and what you are doing on the Road. When you give yourself a chance to feel these things and reflect on why it can become a great opportunity and a growing process of the self. Being tightly and safely connected to your mobile device will keep you away from the opportunity of having these remarkable, tough and profound human experiences in such an incredibly, safe and fabulous place that is the Camino de Santiago.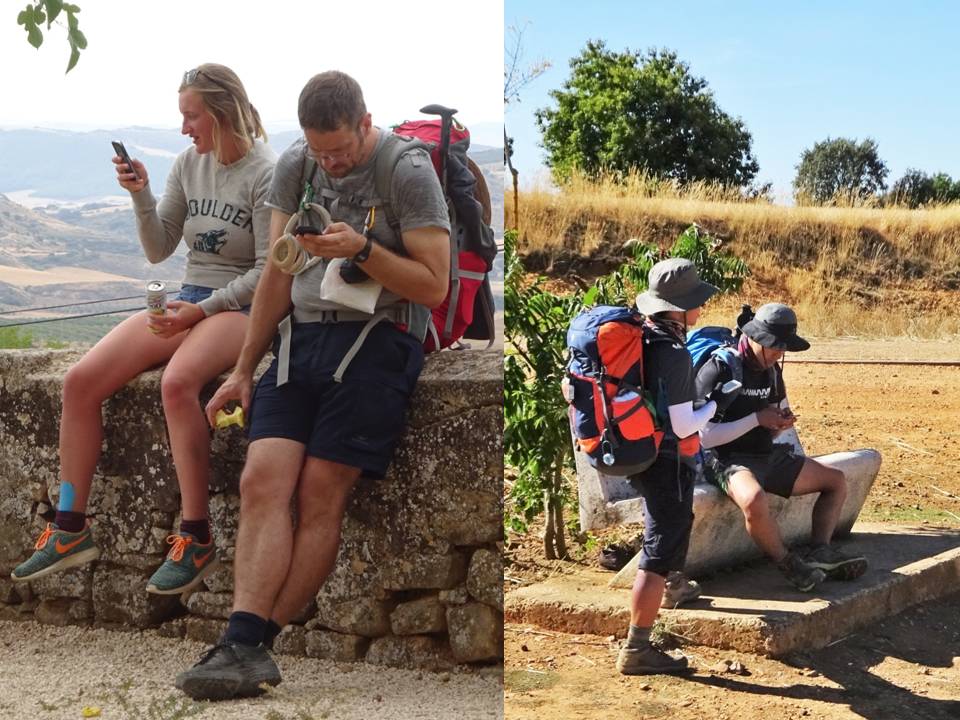 6) Desire to be Tech Connected Can Evolve
Typically, pre-Camino anxiety, the fear of being 'out of touch' as well as the excitement of sharing the journey with friends and family, keeps people tech connected early on in the Camino. When people start walking and experience the joy of being in nature and a community of open pilgrims, one's sense of time and place changes. There is a growing sense of enjoyment and fulfillment in being in the now, with your thoughts, with yourself, with others around you, in nature and the need/desire to connect to the Internet often diminishes.
Be prepared for the possibility that you will feel less desire to connect to the outside world and trust that natural response which urges you to connect to the present simply be where you are. Writing to friends and family (or your public blog, etc) on a daily basis may come to seem like a chore as it can be very time consuming. Trust that feeling and allow yourself to be on the Camino and not tied to your device and the mental connectivity and distraction of things going on someplace else.
If you are concerned about family members, warn them ahead of time that your communication frequency may vary as you go or agree to send out a group "I'm okay" message from time to time.
7) What Relationship with Tech Do I Want on the Camino?
Everyone needs to make their own choices regarding tech usage on the Camino, just try to make sure they are conscious choices. Everyone's circumstances are different. Consider making some tech usage rules for yourself pre-Camino. Suggestion #2 encourages you to self-assess your usage patterns at home. Do you want to maintain the same mental relationship with the internet that you have at home on the Camino? If you don't, then think about this ahead of time. Free WiFi is more and more available on the Camino and it will be progressively easier and easier to connect 24/7. Do you want to be available 24/7 when you are on your pilgrimage? Would you like to use the Camino as an opportunity to limit your connectivity to certain types of social media such as Facebook, Reddit or Instagram or the like?
Other ways that people manage tech on the Camino is to establish norms for themselves. For example,
"Go dark" during the Camino. Inform people that you will be disconnected and not responding during x amount of time
Establish a "switch-off zone" where you turn off your phone while walking or other segments of the day.
Turn off certain features of your phone while on the Camino – notifications, certain apps, incoming calls, etc.
Before bed or early morning limit yourself to a check-in message with family/friends
Typically people have no personal tech rules and every single time they take a photo or stop at a bar or café en route they take out their phone and check whatever. Others use their devices for entertainment (music, books, movies, etc) at the end of the day. Some people connect to on-line dating sites, sports groups, world news and stock reports and there seems to be little distinction between being on and off the Camino. Remember, pinging notifications stimulate dopamine loops in our brains. As psychologist Susan Weinschenk suggests in her article on addiction to texts, twitter and google, "Turn off the cues — One of the most important things you can do to prevent or stop a dopamine loop, and be more productive is to turn off the cues. Adjust the settings on your cell phone and on your laptop, desktop or tablet so that you don't receive the automatic notifications. Automatic notifications are touted as wonderful features of hardware, software, and apps. But they are actually causing you to be like a rat in a cage. If you want to get work done you need to turn off as many auditory and visual cues as possible. It's the best way to prevent and break the dopamine loops."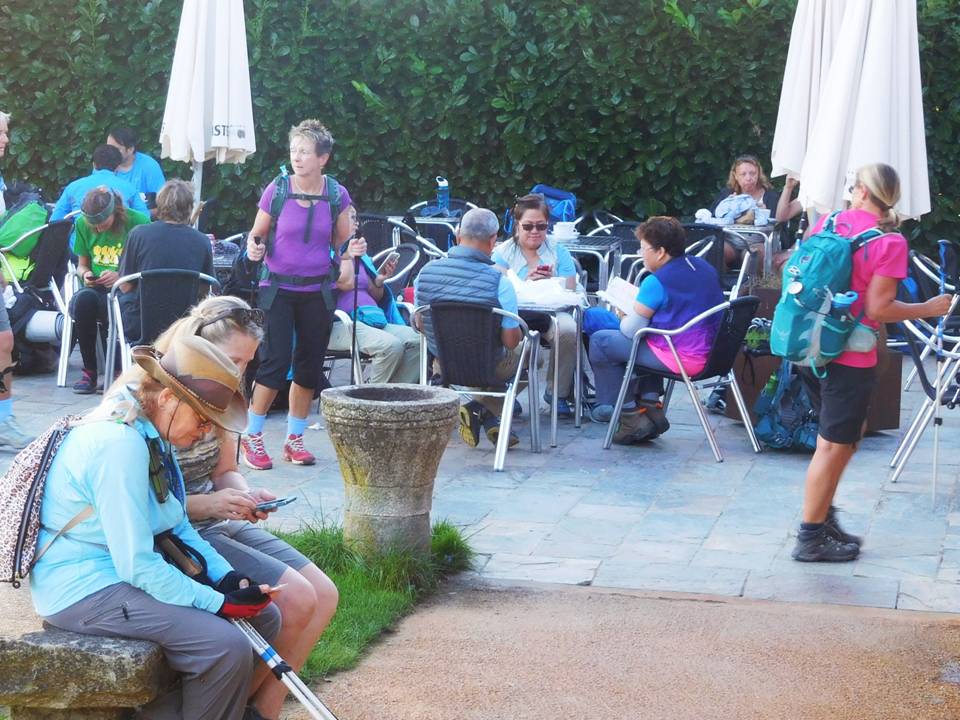 The more connected you are mentally to the world via the Internet on the Camino the less you are in the Camino living, breathing and experiencing it fully in body and mind. You are depriving yourself of the opportunity of receiving one of the Camino's most precious gifts: freed up mental space. When people have this opportunity of freed mental space, 21st C pilgrims typically try to instantly fill it with noise from the net, home or the world. Why do we discard so readily what the Camino offers? Many people want a "time out". Why not give yourself one?
You might ask: Why would someone want freed up mental space? If you want me to answer that question, let me know.
8) Physical/Bodily Reaction to Disconnection
If you decide to limit your tech connectivity on the Camino, be prepared for the possibility of withdrawal symptoms. A well-known, documented phenomenon among habitual mobile tech users is called "phantom ringing" or "phantom vibration" which occurs when a habitual user stops using their devices for a period of time and will hear or feel the phone even if it is turned off. I interviewed a Swedish woman who decided to do a "digital detox" (ie, sustained non-use of one's mobile tech devices) on the Camino leaving behind her phone. She experienced this phantom ringing phenomenon and told me it took her at least 10 days for her to feel that her over-stimulated mind start to calm down and that she could enjoy the Camino more fully. It is normal to have tech withdrawal symptoms or anxiety for habitual tech mobile users when they stop using them. Once you get past that stage you will feel more alert mentally, begin to perceive more with all of your senses, focus better, decrease your inner need to connect to the web and feel the present more strongly. You will feel more alive and engaged with your body, surroundings and others and less inclined to look to your phone for solutions.
9) Self-Monitoring on the Camino is another Mental Distraction
The tech industry has developed a whole series of wonderful apps that allow us to self-monitor all of our bodily functions – steps walked, heart rate, water consumption, distance covered, speed, hours slept, night movement, and so on and so on. These apps are very interesting and can serve an important function but in the context of the pilgrimage, I would encourage you to ask yourself, "Is it really necessary to monitor my body in this way?" It ends up being distracting and another example of too much information and another "thing to do". Rather than free us up, the tech finds ways to tie us down mentally by giving little rewards (ie, achievements such as 10,000 steps completed!) which trigger dopamine hits in our brain making us feel good. By focusing on the minutiae of our body, it can lead to greater stress, something to be worried about or distract you. Maybe it would be nice to give your mind a break! One of the gifts of the Camino is learning to listen to your body and knowing when you are hungry - to eat, when you are tired - to stop and rest, when your feet have pain - to stop and tend to them. When we ask these monitoring devices to listen for us, we diminish our ability to hear our body's signs and listen to them ourselves. We end up giving these devices a tremendous amount of power over us as we begin to trust them more than our own instincts. Remember that these tech products are designed intentionally to be addictive and to erode your confidence in yourself so that you will consume more of them.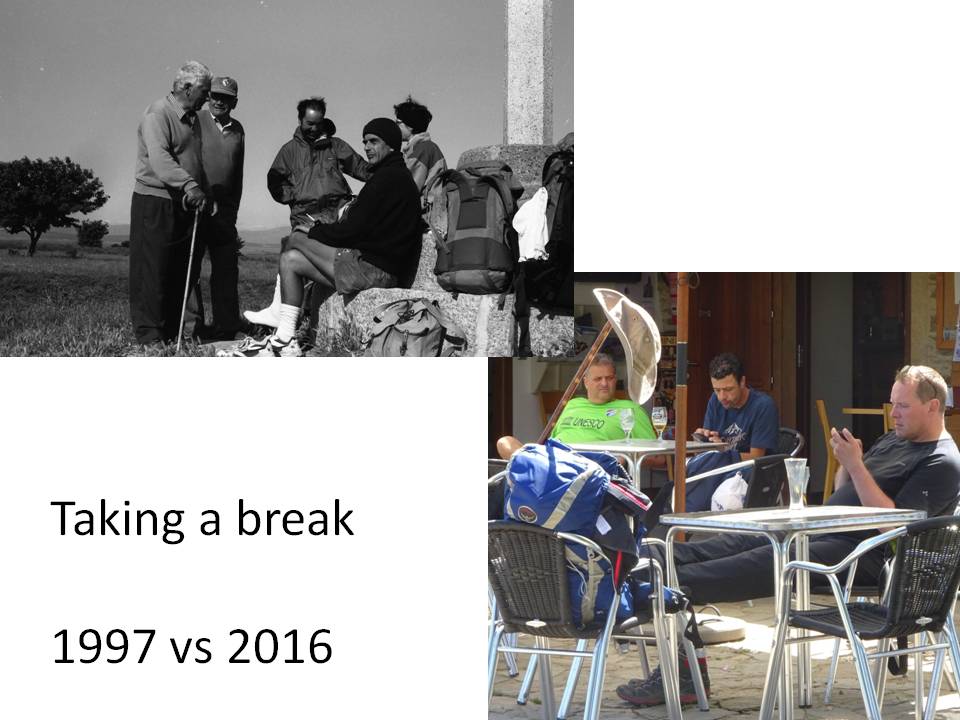 10) Using Camino Apps vs Guidebooks
People often claim that using a Camino app is the same as using a guidebook. Or, that writing in a diary by hand is the same as writing an online blog. On the surface they may appear similar but they are very different how they affect you mentally. In both cases, the guidebook and the handwritten diary, anchor you to the present and help keep you in a bracketed period away without external influences and feedback. Reading about the next day's stage in a guidebook has a limited frame of reference and consumption of time. The tendency when reading a stage on an app is to spend a significantly greater amount of time due to the many distracting elements which encourage you to seek further information about many different aspects of the journey – lodging, where to eat, comments someone made about this or that, what to do or not to do. Before you know it, you have been sucked into a series of articles or posts and spent much more time than if you had simply had the fixed, sufficient info offered in the guidebook.
In terms of a diary vs a blog, a diary is private, of the moment and may or may not be shared with anyone in the future – usually not. Writing a blog almost always implies an audience which can be very small (family and a couple friends) to a very large, unknown audience. The tendency when writing for an audience is to create a version of events for that audience. Depending on how the blog is set-up, the pilgrim may or may not receive instant feedback.
Whatever you choose, be aware of the hazards that an app or a blog will have on increasing your mind's distraction, time spent on line and less time spent physically and mentally where you are.
11) The 21st C Pilgrim Ritual: Post-Walk Tech Time
Habitual mobile tech usage has created new needs and new neediness in 21st C pilgrims. One of these new needs is the daily internet fix, ie, "tech time." Tech time consists of a window, usually after checking in for the night and doing a few basic chores, to settling down for a period of time to do a series of internet activities that may include: checking and answering messages, catching up with the world, processing and sending photos, blog writing, social media posts and updates, planning the next day, entertaining oneself, etc, ie, disconnecting mentally from your immediate reality and sharing in some way the day's events via the internet with a larger audience. People often sit in common rooms, where the band width of the WiFi is best, and connect to their devices and disconnect or tune out of the world around them.
Due to the rise of the Internet, a new concept of "being away" and "doing the Camino" has evolved in the 21st C Camino experience: the Camino is when I walk and then I have "free time" to do other stuff. Before the Internet Age, the Camino existed outside of "normal time" and was a complete, bracketed experience of time away in a very different space and place. Our devices now allow us to rupture constantly our sense of being away in a new place, space and time. It's much harder to listen and flow into the cyclical sense of the Camino and perceive the "out of time" feeling that once was normal. The current trend is to constantly break up the day into mental engagement and disengagement rather than give oneself a long, extended period of mental disengagement over days and weeks. Rather than a mentally freeing space, the Camino potentially becomes a very busy place mentally where people feel stressed about all the "stuff" they need to do during their "tech time" to keep up, the family informed, and the audience happy. People also start to complain about the poor WiFi that doesn't allow them do what they want so they can have more free time on the Camino. For some, this adds a layer of stress never before witnessed in pilgrimage as an experience! 21st C pilgrims choose to keep themselves busy, distracted and mentally burdened to a much greater degree than ever before. Why?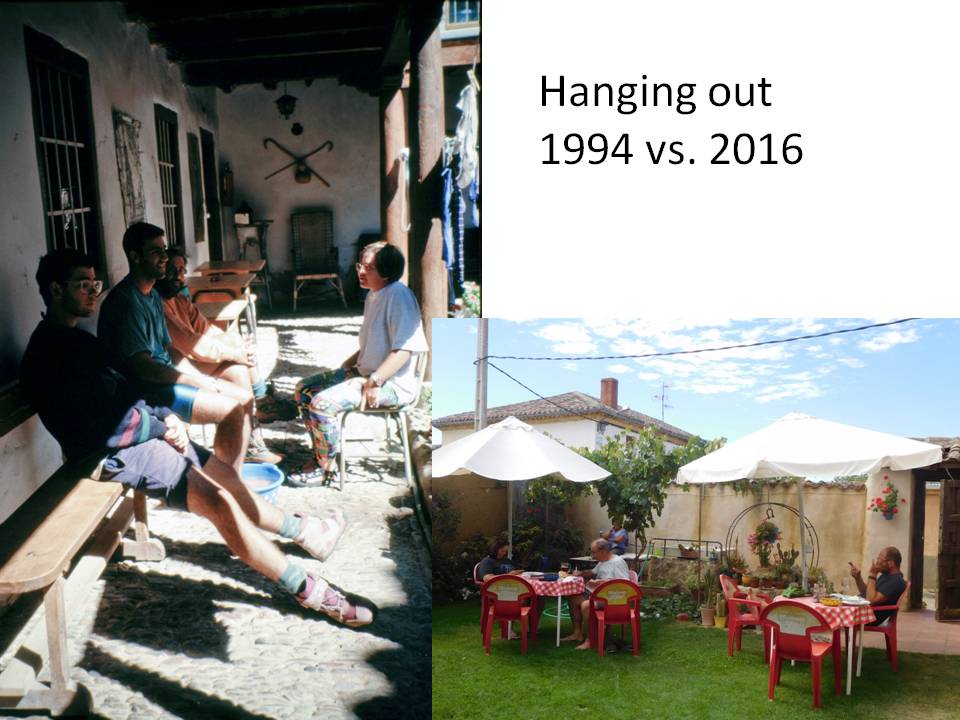 What did people do before Tech Time existed? What would you do with "freed up mental space?" "Tech time" replaces what pre-Internet was valuable downtime, socializing time, exploring time, rest time, reflection time. 21st C tech pilgrims need to be doing something all the time because that keeps the mind busy and engaged. What did you used to do? You hung out. You walked out the albergue/refuge and maybe interacted with a local or people-watched in the park. You observed. You got bored. You played cards, read a book, wrote in a diary, sketched a drawing, longed for something, thought of a loved one, thought of another pilgrim, reflected on the day, walked around the village, wandered over to the church, ran into someone you hadn't seen in a few days as you wandered, wondered if you would make it or what you were doing there, made a communal dinner, shopped in town, made some stupid mistake and felt embarrassed about it. Since you were often feeling lots of different things on the Camino, you may even have felt more sexual and decided to go talk to someone you thought attractive. You looked up at the sky. You sang, wrote letters, sent postcards, and learned some new phrases in another language. There was no way out of the moment. You lived and you learned. Now we insulate ourselves from experiencing what is around us in favor of what is out there in the CLOUD as if that were more important than what we have in the present.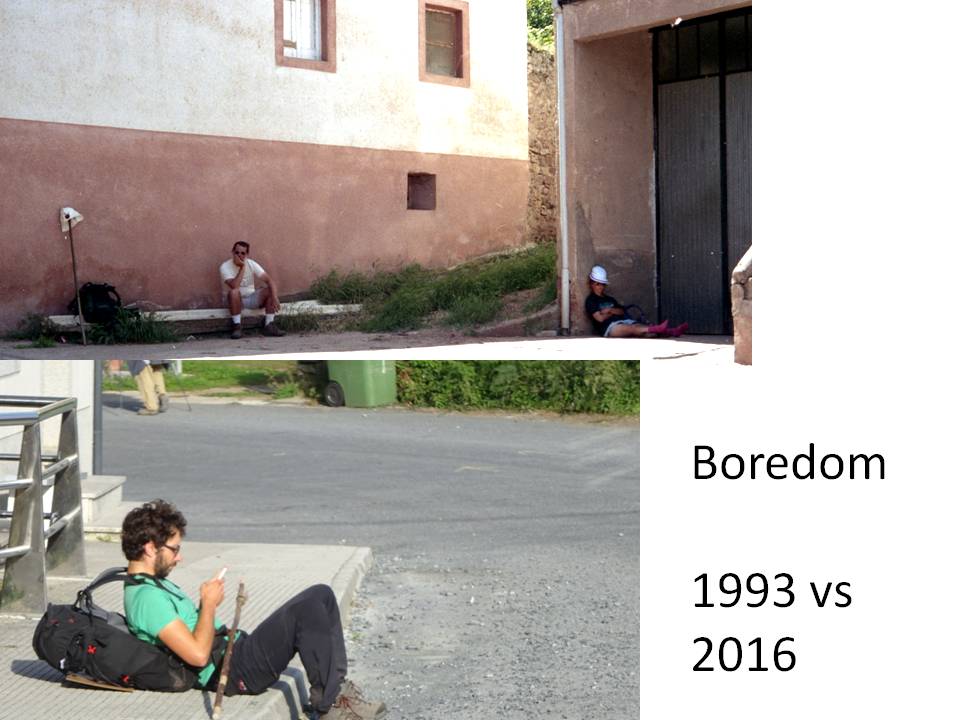 As Master Oogway says in the Disney movie Kung Fu Panda:
"There is a saying: yesterday is history, tomorrow is a mystery, but today is a gift. That is why it is called the "present."
Extended Tech Time takes us away from the present that is the Camino as a whole and we lose the possibility of living it fully. Try keeping your head out of the Cloud!
12) Other Pilgrims' Tech Usage
A great part of the Camino pilgrimage experience is the Camino community and developing a feeling of belonging. On the Camino you will encounter many different tech mobile usage patterns among pilgrims that mirror what you will find in daily life. You may be eating at a table with other pilgrims who will multi-task your conversation by using their phone while chatting with you. Or, you may encounter people who entertain themselves before going to bed with iPads, reading with bright lights and the pinging of notifications coming in. You may find yourself alone during "tech time" if you don't connect with your device. If you choose to go less tech connected than others, you may end up feeling more isolated from some of your companions. These can be opportunities for reflection, conversation, or compromise. It is now part of the 21st C journey and reality. Reflect on how your actions, and those of others using their tech, potentially impact the community.
13) Trip Advisor Camino
The tendency in the Internet Age is to try and do everything "right" and have the perfect Camino with no glitches, no worries and no problems. There is no perfect Camino. Whatever you do, is your Camino. People frequently ask is it "cheating" if I do this or that. There is no official Camino "rule book. " There are a lot of unstated, and often conflicting, norms among pilgrims that is part of the "Camino culture" of the late 20th C and early 21st C experience. The seeming ease to have the "real", "authentic" or "right" Camino is heightened in the Internet Age with the rapid transmission of constantly updated information by an infinite number of experts. Platforms, such as TripAdvisor, are used by pilgrims to rate albergues, monuments and experiences that generate opinion on what is the "best" among pilgrims. We bubble wrap our experiences by always following the Trip Advisor recommendations to make sure "nothing goes wrong". Pilgrims often read and trust these recommendations on line rather than simply explore on their own. By following all of the "recommendations" to have the "perfect Camino", you limit your choices, your own criteria and miss opportunities to experience something for yourself. You let other people choose for you and, in the process, lose the diversity of the experience. The problem is if you don't check stuff out yourself from time to time, you limit your opportunities to learn or grow and you decrease your face-to-face encounters. There's nothing wrong with things "going wrong" from time to time – it converts your travel experience into a journey, into an adventure and these "bad experiences" often make the best stories in retrospect.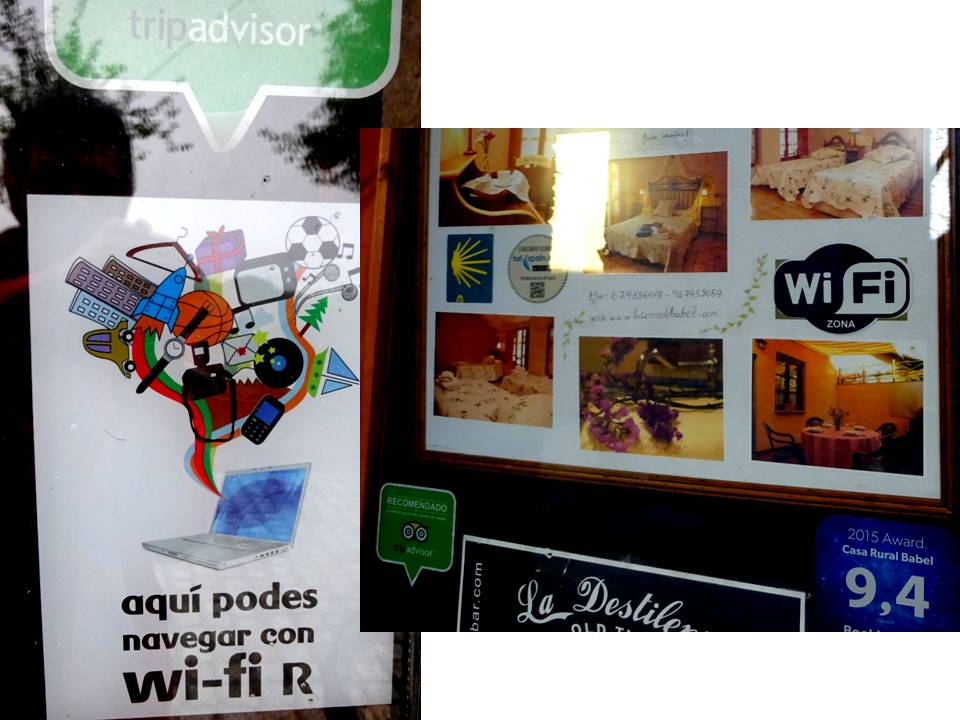 14) Try to deal first on your own before turning instantly to your tech to resolve a moment of adversity.
Reflect on how and when you use your tech on the Camino. As people become more and more dependent on their mobile devices, when adversity arises, the trend is to more and more quickly turn to the mobile device for the solution rather than try to work it out for oneself. People believe they are more independent but, mentally, they actually become more fragile and dependent on their devices to resolves situations when the "going gets tough". What do I mean by the going getting tough on the Camino? I dedicated a chapter in my 1998 book Pilgrim Stories to the "Landscapes of Discovery" in which I describe how the obstacles that people overcome typically become pathways to growth, confidence and self-empowerment. One common "trial" that people face is "getting lost". Someone will be walking along, lost in their thoughts and then realize that they don't see any more yellow arrows marking the way. In the Internet Age it is easy to simply take out your phone, connect the map/gps function and follow its directions back to the Camino. Of course there is nothing "wrong" with doing that. What I am suggesting is that you try to first figure out where you went wrong, ask someone who might help and/or work it out for yourself. We atrophy these "dealing" skills when we delegate them entirely to our devices. The number of moving stories I have of people feeling lost and then "found" by another pilgrim, a villager or circumstances is large. These became part of the pilgrim's journey - lessons in humility, trust or fortitude. Self-reliance is a wonderful skill to develop and sharpen in the safe space that is the Camino. When we lose that self-reliance, we look to our phone and then others to get us out of a tough situation because we don't realize that often we, ourselves, have the power to resolve our own problems. People end up abusing expensive emergency services because they instantly panic and expect that someone else will resolve their problem for them.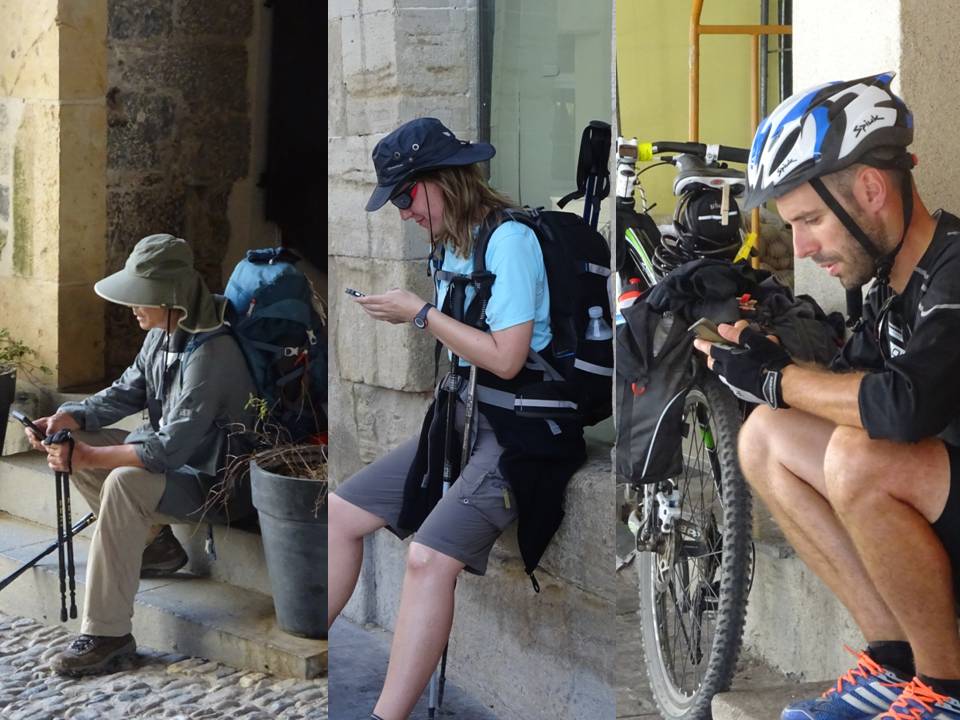 15) Memory and Sharing. You don't have to remember and share everything!
In our world of instant share and constant photos, people express concern that they won't remember if they don't record everything. Recording, photographing and sharing becomes another layer of work and stress on the Camino. Remember, it is okay not to remember everything that happens or to share everything. When we parcel out experiences through constant sharing as they happen, they potentially lose their deeper power in our total experience. It's okay to keep things for yourself.
Pre-internet most people did not have cameras on the Camino. If you did have a camera, the photos were never available until after you returned home. Experiences became internalized, mulled over, reflected upon over the course of the whole journey, of the entire bracketed period away. In the Internet Age, the tendency is to capture moments and selfies showing ourselves and others that "we were there". Somehow if it's not recorded and shared, it's not real. Digital culture also imposes a sense of an obligation and pressure on the traveler/pilgrim to record and share as much as possible.
I have observed repeatedly with some 21st C tech pilgrims the: "I came, I took the photo, I left" phenomenon where a pilgrim arrives at a monument that he/she has probably heard is worth seeing, gets out the phone, takes two or three pictures and then moves on without pausing to observe, go inside, read about it, etc. Been there, done that. What's the point of taking a multitude of random photos, many of which you will probably never look at again? It becomes an album of Camino selfies, smiles and places but not a Camino of experiences lived, observed and felt in those places. As a result you get surface but little depth.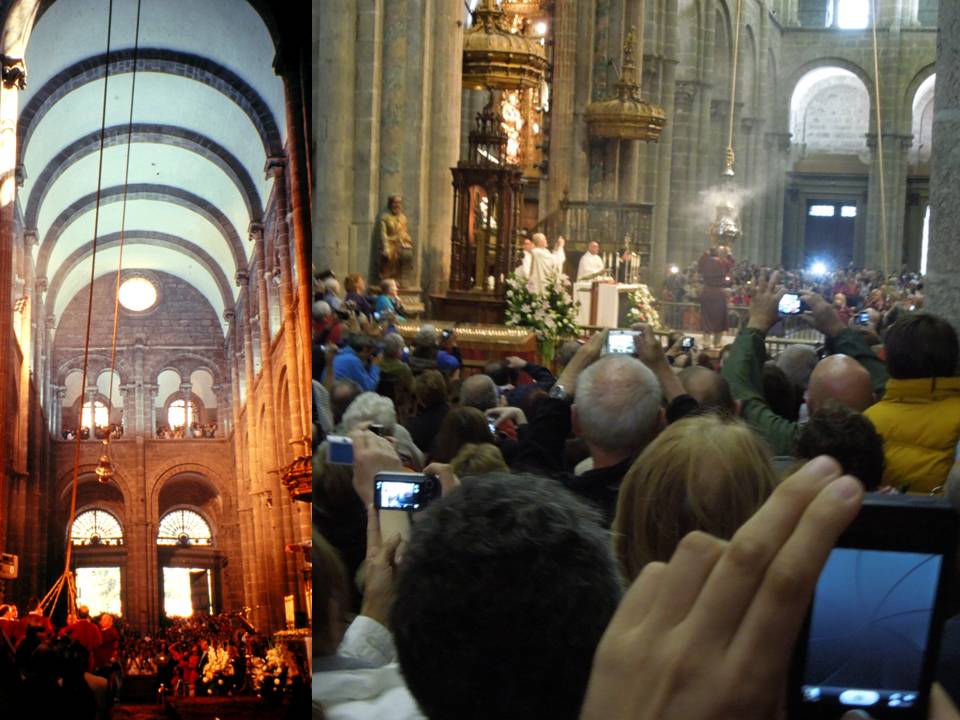 ------------------------------------------------------------------------------------
The Camino de Santiago pilgrimage offers the ideal environment to disconnect from the worries of the world and to connect to a generous community of fellow travelers. The opportunity to take time out and enjoy the simple gifts that the Camino offers, including freedom from mental distraction, at least for a limited amount of time, is precious. It's up to each person to choose whether or not they want to experience that gift or not. Remember, try to look up more often than look down. Buen Camino!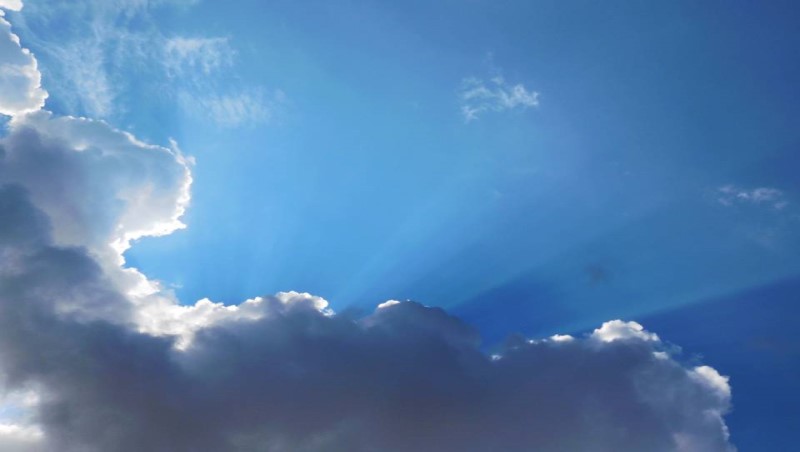 SHORT VERSION. The 15 Tips in a Nutshell:
1) Reflect before going. Why am I doing this? What is the Camino? What is pilgrimage?
2) Be cognizant of the fact that motives often evolve. Be open to change.
3) Self-monitor your tech usage before going and ask yourself if you want your usage to be the same on the Camino at home/work life.
4) Prepare mentally and physically for the Camino but watch out for Information Overload. Draw a line and resist over-preparing. More information is not necessarily better.
5) Talk before going with family, friends and work about communication expectations on both sides. Do you want real mental distance or do you want to be always intermittently connected?
6) Like motives, your desire to be tech connected often evolves on the Camino.
7) There are many ways to be more or less tech connected on the Camino. Reflect ahead of time about how you might want to manage your connectivity.
8) Sustained disconnection from your mobile tech in habitual users can cause withdrawal symptoms. Be aware of this phenomenon.
9) Question gadgets and apps that encourage mental distraction such as "self-monitoring devices". Ask yourself, do I really need these on my pilgrimage?
10) Consider using a guidebook vs an app. A guidebook anchors you to the moment, an app (usually) encourages your mind to flit around endlessly.
11) A new phenomenon of the 21st C pilgrimage is post-walk "tech time". Reflect on how engaging in this practice undermines your bracketed time away, quickly fills up your freed up mental space and ends up distracting you from being where you are – on the Camino.
12) A great part of the Camino pilgrimage experience is the community and a feeling of belonging. How other people manage their tech also impacts greatly the on-the-ground pilgrim community. Reflect on how your actions and those of others using their tech potentially impact the community.
13) TripAdvisor can be a great tool but in the case of the Camino allows you to bubble wrap your experiences without taking any risks, trusting instincts, exploring on your own, making mistakes – all the stuff that turns a trip into a journey. There is no perfect Camino except your own.
14) When something "goes wrong" try to figure it out first before instantly turning to your phone for the answer. Self-reliance is a fabulous skill to develop and sharpen on the Camino.
15) You don't have to remember or share everything! Trust being in the moment, rather than always capturing the moment. Savor special sights and moments for yourself from time to time.
*** CAVEAT: This article is not "anti-tech" nor a nostalgic look to the past. I am very aware that our tech industry-driven society now requires us to have mobile phones for many tasks and there are many features that are very convenient and useful. I am not saying that "tech is bad!" I am suggesting that you probably need a lot less tech in your pilgrimage experience than you might imagine! In fact, engaging less with your tech will give you more real life, face-to-face human experience! Also, I am not judging people who use technology or saying that using tech on the Camino will ruin your experience or that having a phone or checking with your family is "wrong". I am speaking from 25 years' of experience on the Camino doing anthropological research both before the Internet existed on the Camino and now that it is in full-swing. It is possible to see very clearly how tech usage impacts your mental experience on the Camino and there is a huge difference between these two periods. My point is to help you make real choices. Of course, tech offers many wonderful things to make our journeys easier and are very efficient for all sorts of tasks but that's not necessarily the stuff a pilgrimage is made of.
Furthermore, I am not talking about have a more REAL OR AUTHENTIC experience. Each person needs to find and create their own authenticity and there is no magic formula that will do this. What I am trying to do is to help people engage more profoundly with the Camino, to get below the surface and discover themselves more intimately. I am not saying this is the right way, the authentic way or the best way.
Text: Pilgrimage in the Internet Age
Print Version of Nancy's talk: The Smart Camino: Pilgrimage in the Internet Age (Jan 2017, London)
By Nancy L. Frey
September 2017
In January 2017, I gave the keynote address at the Confraternity of St James' Annual General Meeting in London titled The Smart Camino: Pilgrimage in the Internet Age. In the talk I briefly review some general changes I've noticed over the last 25 years and then present my research on the incorporation of new media technology into the Camino and how this has impacted being a pilgrim. The rise of the Internet is the single most important change in the Camino during this period and has dramatically impacted how people engage with the pilgrimage experience before, during and after the Camino is over.
Here is the full text of my talk and a PDF version for easy download. The video version on this site incorporates the PowerPoint presentation illustrating many of my points.
Please feel free to use my talk with a citation: Frey, Nancy. (2017, Jan 28). The Smart Camino: Pilgrimage in the Internet Age. Keynote Address presented at the Annual General Meeting of the Confraternity of St James, London, UK
The Smart Camino: Pilgrimage in the Internet Age
By: Nancy L. Frey, PhD
Keynote Address
Annual General Meeting of the London Confraternity of St James, St Alban's Centre, London
28 January 2017
Introduction (5 min)
In a way this feels like a coming home. In January 1995 I came to London to attend the AGM and other Practical Pilgrim sessions as part of my anthropological research into the late 20th C rise of the Camino de Santiago pilgrimage. I felt at the time and continue to feel very grateful to the Confraternity of St James and its members who generously welcomed me here years ago and opened their doors and minds to my research into the Camino (Slides with Howard, Marion, Alison, William, Laurie, the Foxes, James). Little did I know what a lasting impression these pilgrims and the thousands of pilgrims I have met since then would have on my heart and psyche. Thank you for inviting me back here all these years later.
Some of you may know who I am but others probably will not and you may wonder why I would be asked to talk about 25 years on the Camino. My first direct contact with the Camino was in 1992. As a doctoral student in the Cultural Anthropology department at UC Berkeley, I was in Spain looking for the topic for my dissertation. I reached Santiago in July at the height of the Feast of St. I saw pilgrims arriving into the Plaza de Obradoiro with their packs and scallop shells. In stark contrast to other Catholic pilgrimage, such as Lourdes, the suffering body was not in evidence. In fact many glowed or looked as if they had been through a powerful physical and mental journey. I sensed almost instantly that I had found my project: to understand the modern resurgence of this grand medieval pilgrimage. To learn about the pilgrimage I knew that I would have to both study its history and participant in it as pilgrim. In 1993 I walked from Somport in France to Compostela over 6 weeks. Initially an academic exercise, the pilgrimage ended up leaving a deep and lasting impression that continues to today. In 1994-95 I returned to Spain to conduct my field research and worked at six different pilgrim's refuges or albergues including a memorable stint at Rabanal del Camino in July 1995 (which I repeated in 1997). I lived in Santiago de Compostela, traveled and walked parts of many different Caminos and visited pilgrims in their homes to do follow-up interviews in England, Spain and Germany. I attended pilgrim's association meetings, retreats and as many events Camino related as possible. The outcome of my research was my book Pilgrim Stories. On and Off the Road to Santiago.
The Camino gave me many gifts, some very unexpected, and ultimately changed my anticipated life course. In 1997 I cycled the Camino again from Roncesvalles to take photos for my book with a pilgrim I had met during my research and who became my life companion. In 1998 we led six students from Roncesvalles walking the Camino and leading an academic course. Since then we have worked together teaching and guiding people from around the world about Spain and the Camino. Consequently, it's been my remarkable fortune to have walked on the Camino several times a year for the last 17 years meeting pilgrims, hearing their stories, watching their journeys. People sometimes ask me if I get tired of being on the Camino. I can honestly say that No, for me it's always a landscape of discovery and a privilege to share in someone's potentially transformative journey.
This leads me to my current research. For many years, I didn't think the Camino had changed very much beyond expanding numbers and progressively increasing infrastructure. When on the Camino all of these 25 years, I have never stopped observing, listening, interviewing and analyzing the pilgrimage experience. It was around 2006 that I started to notice changes. At first the change was slow and subtle and then it became progressively more rapid. For me the most profound change on the Camino since the publication of Pilgrim Stories in 1998 is the incorporation of new media technology into the Camino on the level of infrastructure, planning, contact and on the experience of being a pilgrim.
General Changes in Camino (10 min)
Marion Marples contacted me to speak at the AGM and suggested it would be interesting to hear "an overview from your perspective of the current state of the camino and the changes since Pilgrim Stories was published." Before I address changes wrought during the Internet Age, here's a brief trip down memory lane of a few changes in the Camino over the last 25 years. This is a very general overview and by no means an exhaustive list. To prepare and illustrate this talk I had many old slides and negatives digitized from 1993-1997.
One caveat about Change: I'm very aware that the Camino has been in a constant state of flux and change at every point in its development since Pelayo supposedly first saw that star in the woods over Libredón in the 9thC AD. Many people yearn for the vague 'medieval' experience but the Camino never is what it was. One constant I have heard repeatedly over the years is that people typically think the Camino was 'better' when they did it which, of course, is a perfectly valid sentiment. It probably was "better" precisely because it was their first time and there's nothing like the first time. The Camino will continue to evolve and change a reflection of our times, values, resources and psyches. It simply is what it is now.
Pilgrim's Office and Statistics
I thought it might be interesting to start out with a few statistics from my book (mid-1990s) and 2015[i] (the 2016 year-end stats still not compiled). Statistics are a sticky issue on the Camino. The only consistent records are those maintained by the Pilgrim's Office in Santiago statistics and these only reflect the pilgrims who apply for the Compostela Certificate and miss many others. Nonetheless, they are the best available.[ii]
Numbers: 1996: 23,218 pilgrims got Compostela, 2015: 262,516. The Camino's popularity as an international destination continues to grow. Excluding the Holy Years, the Camino's growth steadily increases with no end in sight.
Sex: 1996: 65% men and 35% women, 2015: 53% men and 47% women. With greater popularity increase in women.
Internationalization: 1994: 33 nationalities 1996: 64 nationalities 2015: 153 nationalities. The Camino continues to attract travelers from far-flung places.
Top 5 nationalities:
1996: Spain (70%), France, Germany, Holland, Belgium
2015: Spain (46.6%), Italy, Germany, USA, Portugal, (France #6, UK #7 and Korea #10)
Mode of Travel: 1996: 71% walk, 28% cycled; 2015: 90.1% walk; 9,6% cycle. Cyclists were always in the minority but their numbers are waning as the mental shift has occurred that this is a 'walking route'.
Roads Traveled – Development of other Routes:
1996: Camino Francés – no specific data – vast majority; 2004 – Francés: 77%, Portuguese – 8% 2015: Camino Francés – 65.6%, Portuguese – 16.4% and Norte – 6%
Acquisition of the Compostela Certificate
I've debated about whether or not to bring up changes related to the Compostela Certificate as this is a sticky subject among the pilgrim community that often degenerates into non-productive and heated discussions about "authentic" and "real" pilgrims and could be an entire presentation on its own. Nonetheless, I would like to make a general observation. As the pilgrimage unfolded in the 20th C getting the Compostela Certificate was most often a very meaningful memento but not necessarily the objective of one's Camino. As the Camino has grown in popularity worldwide and gets regularly listed as one of the "World's Great Walks" the idea has grown that one of the principal objectives is to "Walk the last 100KM to get the Certificate".[iii] This focus has heightened conflicts among some pilgrims who believe that long distance pilgrimages are innately better than short distance pilgrimages and that the form of the pilgrimage (distance, where you start, what carry) is more important than the content. Even though clearly inner miles that are walked cannot be judged by superficial criteria of form, they regularly are by longer-distance pilgrims who disdain the 100KM pilgrims. I do not have time here to discuss this in-depth but at least two of the consequences have been 1) the increase in numbers and demand to walk the last 100Km, especially from Sarria putting a lot of pressure on that section; and 2) the Cathedral's decision to incorporate a Certificate of Distance in 2014 to capitulate to the ego needs of long-distance walkers who place more emphasis on form than content in the pilgrimage experience. As one man wrote on a pilgrim forum, when the decision was announced: "My wife, who walked only from Sarria, said I should get a different one since I started at SJPP!"[iv] The goal of the Camino becomes the pride and the Certificate and reinforces a competitive model of pilgrimage.
Motivations and Expectations.
To get the Compostela Certificate at the Pilgrim's Office you need to state your motive because it is supposed to be given only to religiously motivated pilgrims.[v] The Church has progressively become more lenient on how it defines religious. In my book I recount two controversial cases that would never occur today (a spiritually oriented Japanese Buddhist who was denied the Compostela and a Protestant man grieving for his son was finally given the Compostela after a lengthy interview with Don Jaime). In the 1990s the Pilgrim's Office accepted the following religious motives: a) spiritual, b) religious and c) religious-cultural. On the Pilgrim's Office website in 2017, the motives have evolved to: "Make the pilgrimage for religious or spiritual reasons, or at least an attitude of search".[vi] The religious-cultural motive no longer exists and the vaguer "search" has been incorporated to attend to the vast array of people who now find their way to the Camino.
In April 2015 I conducted a survey with follow-up interviews about tech and the contemporary pilgrimage experience at the Pilgrim's Office. I was very surprised by the results. In my survey pool of 51 (representative of pilgrims arriving that day), not a single person indicated that "culture or history" motivated their journey. Rather the new primary motivation was "Experience", " i.e. "having the experience" or wanting a "new experience". As a 'world walk' the Camino is now a 'bucket list' trip for many people who want to have and share the experience. "Personal" reasons including a "time out" was the other major motivation among the pilgrims in the survey group and gets more to the idea of an inner journey with self-reflection. [vii]
INFRASTRUCTURE
With the increase in pilgrims, the infrastructure and pilgrim based services (albergues, shops, vending machines, etc) has increased dramatically. The growth of private albergues with a standard fee has completely outmoded the donation-based model started in the early 1990s loosely following the tradition of monastic hospitality for pilgrims and the poor. Small towns that did not have any or very few services in the 1990, now have hopping pilgrimage-based economies – Moratinos, Hornillos del Camino, Rabanal del Camino.
There's more competition between these services vying for pilgrims' attention and increased commercialization. Signs on the edge of villages to advertise albergues are increasingly common. The woman who opened the first pilgrim's refuge in 1990 in Hornillos del Camino, found herself criticized in 2010 by albergue owners in Fromista who thought that her donation-based refuge would be unfair competition.
Sections of Camino have been destroyed or continuously "improved" and it gets progressively more difficult to get muddy boots.
Increased growth has also brought increased regulation of activities linked with the pilgrimage meaning more red tape, bureaucracy and licenses. Good Samaritans like the Englishman John, The Pilgrim Helper, who offered free pilgrim attention out of his mobile refuge, found himself no longer welcome at the Sierra del Perdon because he needed a license as his free service competed with the local vendor who set up shop.
EQUIPMENT
Pilgrims in the 1990s were pretty low-tech and "come as you are". The current high-tech pilgrims weigh all the objects in their packs by the ounce, carry super-light, quick-dry, UVA protected clothes and carries physio tape instead of duct tape.
In the same vein, in the 1990s pilgrims often found their walking sticks (preferably hazelnut) early in their walk. The stick would become a companion and sometimes carved becoming a special map of the journey. Pilgrims still carry sticks but walking poles predominate.
INVASION OF OUR ATTENTIONAL SPACE
This is part of larger societal trend that public spaces are open for publicity with advertisers constantly vying for our attention.[viii] On Camino now anybody with a cause, albergue, or other business creates a sticker to plaster on any open space to try and grab your attention. Since 2012 there has been a huge increase of graffiti on way markers, especially in Galicia. In addition to the typical Izzy was Here and I Love Pepe, now see ads, web addresses, Pilgrim Hash Tags and a even commentary on popular mobile phone game: Pokémon GO, pilgrims, which keeps pilgrims faces to their phones and off the Camino.
THE CATHEDRAL: Security, Protecting Patrimony and Limited Access
The rise of Muslim terrorism changed security measures and pilgrim backpacks are no longer are piled up on the columns. In fact you can't bring backpacks into the Cathedral anymore. [ix]
DOGS:
The fear of wild dogs and dogs in general was very real in the 1990s and even into the early 20th C[x]. From the dogs' point of view, pilgrims have gone from being strangers (something to bark at) to familiars (a normal part of the landscape). Dogs on the Camino Frances are now bored by pilgrims and the sound of passing sticks puts them to sleep. The taming of the Camino dogs is wonderful metaphor for the progressive domestication of the Camino over the years.
Changes related to Internet Age (30 min)
"Nothing vast enters the life of mortals without a curse." ---Sophocles
To compare the Camino from a pre-Internet time to an "Internet Age", I'm using the year 2000 as a rough cut-off. Even though internet technologies were used on the Camino pre-2000, their use in the Camino pilgrimage experience was significantly more limited and thereby less impacting.[xi] I would like to make a general observation about tech.[xii] Technology (and by that I mean social media, mobile phones, Apps, the internet, etc) is a tool. Understood as a tool it is inherently neither good nor bad but neither is it neutral, many products are specifically designed to keep the mind engaged and users coming back for more.[xiii] My research on the influence that media tech has on the Camino and pilgrims is not a judgment on whether it is good or bad. Sometimes people say to me, "Tech? What do you mean? It has nothing to do with it. It doesn't impact the Camino at all. It's just part of everyday life." My role as an anthropologist is to make evident our implicit assumptions and how these guide our actions in ways we may not be aware of. Each person needs to come to their own conclusions on the role they want tech to play in their experiences.
Pilgrimage is a process
In Pilgrim Stories the structure I gave to the book follows the idea of pilgrimage as a rite of passage. Underlying all rites of passage is a basic three-step sequence of movement: Separation, the Limen (In this case the journey along the Camino), and the Return Home.[xiv] No matter what the motivation, the Camino de Santiago pilgrimage follows the same pattern; the individual leaves the familiarity of home, begins a new identity as an anonymous pilgrim, and is often outside of one's comfort zone. The change in external conditions can be destabilizing and disorienting and stimulate internal changes leading to insight and reflection. The final stage is the Return to daily life somehow different than before one began. In the Camino de Santiago pilgrimage both the physical and mental elements of this process, working in tandem, are highly salient. While the physical component has remained relatively the same, for most people the mental component has changed dramatically in the Internet Age.
Over the last 15 years, I've witnessed the progressive disruption of this three-stage.[xv] The Internet Age has brought a new layer of experience (the Cyber/Virtual Camino) and potentially increased Mental Activity that did not exist before as a reality or a perceived need. Also, as media tech becomes habitual in the Camino the boundaries between these different stages blur as people move in and out of them on the mental plane, ultimately impacting the power of the overall experience.
The Before in the Internet Age
Feeling anxiety before launching oneself into the unknown is a normal and universal human emotion.[xvi] One way that people manage anxiety (as well as to heighten potential enjoyment and success of the encounter with the unknown) is to prepare both physically and mentally. Before the rise of the Internet preparation was mostly limited to books, articles, word of mouth, Pilgrim Preparation talks and the like. Since the mid to late- 1990s and especially from the year 2000 on, the amount of information available on every conceivable aspect of the Camino is remarkable. With the birth of new forms of human communication (such as websites, blogging, vlogging, text messaging, online forums and social media groups), the Internet provides an easily accessible gold mine of information that now permits the potential and armchair pilgrim worldwide to find and get answers to any question they might have. If someone cannot find the answer through already established written sources on the web, questions can be directed to on-line Camino de Santiago forums, newsgroups and websites specifically dedicated to helping potential pilgrims develop and plan their journeys. Potential pilgrims can even pay for and attend classes to learn how to be a good pilgrim.[xvii] The Camino's accessibility for consumption and participation has vastly increased for audiences that would have previously missed out due to lack of information or perceived support and "do-ability."
While the wealth of resources has numerous benefits, pilgrims also experience drawbacks related to "too much information". Potential pilgrims can get bogged down in the minutiae, feel overwhelmed by the quantity, confused by conflicting info and not be clear on when "enough is enough". When scanning forums and Facebook pages to see what kinds of concerns potential pilgrims have popular topics in the Internet Age (from 2007 on when Camino Forums began to take off) some include: raincoat vs. poncho, toilet etiquette in albergues, is it difficult to make friends on the Camino?, and 30 Dos and Don'ts for Newbies. In fact, instead of diminishing anxiety, the information overload can prey on people's fears and increase anxiety leading some people to cut off their forum connections before going[xviii]. As one 20-something male wrote:
I leave next Tuesday and I've decided to stop reading the forum now as its mostly just worrying me.
Every day I'm reading how there are no beds.
Every day I'm reading that you can't walk your own Camino because you need to plan for the people who get up at 5am or only walk 15km, and are taking all the beds by midday.
I keep on reading about people not acting in the spirit of the Camino.
I just want to get there now as my amazing journey is starting to seem a little less.
Hopefully a break from the forum will allow my preconceptions to equalise again and allow me to regain my excitement.
Rant over! Aug 19, 2013
The perception of how difficult it is to prepare for the Camino has progressively increased over the years and you can witness it in the evolution of Camino guidebooks. For example, the first modern guidebook to the Camino de Santiago, written by Don Elias Valiña in 1985 (and then published in English in 1992), contains one page of commonsensical preparation advice called "Getting Your Bearings".[xix] Over the years guidebook introductions progressively got longer and longer leading in 2011 to the birth of a new genre of guidebook solely devoted to helping you prepare to do the Camino.[xx] Ironically, as the Camino has progressively and objectively become easier to plan, organize and do with increased information sources available from the comfort of home, efficient way- marking, and increased on-the-ground services readily available people now flounder in the morass of information and may need a guidebook to pull them free of it. Do you objectively need more help to do the Camino in 2016 than you did in the 1990s or have we made it more complicated than it is?[xxi]
Creation of Pilgrim Identity Pre-Camino and attachment to a Virtual Community
Another new facet of pilgrimage in the Internet Age is the development of one's virtual Pilgrim Identity and participation in real time in other people's Camino experience before even setting foot on the Camino through participation in online Camino Forums, FaceBook groups and the like. In 2008 I began to follow Forum threads and noticed that potential pilgrims began to start threads and identify themselves in jest as part of the "Class of 2008". [xxii] A participant's forum engagement can span days, months or even years before going. Some potential forum pilgrims post hundreds of comments before they ever set foot on the Camino and engage actively with other first time pilgrims, "Veteran Posters" and "On the Road" pilgrims who connect to the Forum from the Camino to check in or ask questions. These continuing Class of… groups share information on their upcoming journeys, motivations for going, encourage one another in their efforts and express gratitude for the Forum. Virtual connectivity to the Camino and an online Camino community is intensely heightened in the Internet Age.
The boundaries between the three stages of pilgrimage blur significantly as the Future/Virtual pilgrim enters the 'Live' Camino via the Virtual Camino. Virtual pilgrims create memories about places and form impressions of people, places, landscapes and experiences before setting foot into them.[xxiii] How does this impact the real, on the ground experience once the Virtual pilgrim is literally on the Camino in terms of expectations and attitudes about what their Camino should or ought to be? I'm not advocating not preparing but rather encourage potential pilgrims to use common sense and reflect on the impact of being hyper-informed. Discovery, wonder and surprise are elements often traditionally sought after in such a journey into the unknown, like the Camino, and can be impacted by extensive pre-activity and engagement.
WHAT TO TAKE
Packing lists have evolved significantly since the 1990s. Now in 2017 the vast majority of pilgrims carry a mobile communication device (eg, Smartphone, iPhone, tablet, pre-paid phones with Spanish sims) and will upload a Camino App as a guidebook, reference, connection point, etc.[xxiv] In Pilgrim Stories I made reference to one man with a mobile phone on the Camino that I encountered. An oddity. As our world has evolved over the last 25 years, the desire to connect to virtually both in and outside the Camino has progressively increased. I've also watched the evolution of Forum conversations regarding tech going from "Should I take mobile tech?" to "What mobile tech should I take?" These themes often overlapped and the topics generally created heated debate between self-defined "techno-geeks" and "purists" regarding the virtues and disadvantages of tech on the Camino. By 2014-2015 the bulk of questions revolve around the technical aspects and practicalities of phone usage rather than questioning the role tech might have in one's journey.
Here's a list of tech related items potentially on your packing list taken from a sample of thousands of Camino packing lists on-line and the photo that accompanied this blog entry. The author begins with the comment: "When it came to tech, I wanted to take as little as possible to both remain in the moment and keep the weight down." On his list, made in 2015, he includes: a 4-way USB charger, sports watch, portable battery, Smartphone (as a camera, communication device and with an uploaded guidebook App), cables and noise-isolating earphones. [xxv] He mentions the sports watch that he uses to monitor his Camino. It's progressively more common for people to monitor their journeys and bodies with Fit Bits and other Wearable devices to track number of daily steps, pace, distance, heart rate, calories consumed, start and stop times, etc.[xxvi] To keep their tech charged, some people bring their own solar panels attached to their backpacks. Are these new "essential" items of the Internet Age based on a real need or a need we've created by our progressively tech-centered lives?
During – Once on the Camino
OUTCOMES OF PREPARATION
As a result of preparation, some people do make better choices for themselves but it is readily apparent they many 21st C pilgrims still experience the same problems (both physical and preparation-wise) they did in the 1990s despite all the information available. The fumbling, the making of mistakes and dealing with the "problems" or adversities are actually an important part of a pilgrimage process the pilgrim often goes through to gain insight and reduce mental weights. Reading about it online or in a book is clearly not enough. For example, "reducing the bag", ie, realizing you don't need everything you brought and letting some of go, is often an important mental and physical step towards discovering the power of simplicity. Shedding the physical weight in the bag often then leads to the subsequent realization and comparison to one's daily life – "Ah, my life is cluttered and materialistic. There is a lot I can let go of. In the Camino I feel so good and have so little."
MOBILE TECH ON THE CAMINO
By 2017 most pilgrims carry a mobile device (as a minimum) on the Camino but there is a considerable spectrum of usage and level of connectivity. Generally, people who are more connected at home will also be more connected on the Camino unless they make specific, conscious decisions regarding tech usage. And likewise someone whose is less connected in daily life will probably tend to be less connected in the Camino. Some people are aware that tech habits might interfere in the process of pilgrimage as a meditative activity and make choices to be less connected. Many are not aware especially among the younger generation that grew up in a connected world and may have never experienced sustained disconnection in their lives. Others simply embrace technology and revel in all the ways they can remain connected, monitor and share their pilgrimages and keep their normal channels open and daily life activities up to date. For many tech connectivity will seem like a non-issue.[xxvii] One pilgrim described in a 2016 article his surprise in how attitudes had changed on the Camino since his first pilgrimage in 2007:
Behavior that is acceptable in public today — such as posing for selfies, constantly checking email, posting and texting in meetings and in class and in almost any social situation with friends and family — would have seemed odd, perhaps even rude back then. But things have changed.[xxviii]
THE EXPERIENCE OF TIME AND THE INCORPORATION OF TECH TIME
In the 1990s when you left, you experienced a bracketed period of time away where there was a significant mental and physical disconnection from home and the world imposed by the tech limited circumstances pre-Internet. Studies show that nature has a calming effect on the human mind[xxix] and walking is a meditative act which also has calming effects on the mind and can be therapeutic[xxx]. You found yourself grounded intensely in the present, in the Here and Now. It was hard to escape unless you chose to leave the Camino. The simplified day consisted of getting up, packing the bag, eating, finding the arrows and walking, mostly in nature. The combination of enforced reduced mental activity, the therapeutic and meditative powers of walking[xxxi] and the calming effect of nature led typically to a profound change in the pilgrim's sense of time and place.
People often carry a layer of stress in their daily lives, like a cork. Reducing the mental responsibilities, activities and stress in the Camino pre-Internet, allowed the release of that cork. As the cork popped unanticipated, unforced and often confusing upwellings of emotion and memories poured forth. Over the course of the journey these were often cathartic and profound. Pilgrims wrote in diaries and occasionally chatted with family but these experiences built up inside of the pilgrim, had to be dealt with in the moment, became layered and mulled over forming a large 'whole' within that bracketed time away. Often it was not until the Return that the pilgrim was able to begin to process the events of the journey.
In the Internet Age the power of the physical journey (the walking and the calming effect of nature) remains clearly present but the mental journey is significantly altered. People still face adversity through blisters, pains and day-to-day trials that arise. Pain helps anchor pilgrims to the here and now. But Tech usage helps keep that cork of stress in place rather than remove it making it more difficult to access those inner worlds. Your mind is kept engaged and distracted with status updates and notifications, taking photos and selfies, checking and posting social media, body and journey monitoring, online bill paying, checking the news, informing your family and friends, writing a blog, working, reading reviews of albergues, making reservations for the next day, checking your on-line dating site or resolving problems mediated by your phone. Rather than getting out of your comfort zone, it's much easier to stay in it. Instead of a global, bracketed time away mentally and physically in a unique place and space, Internet Age pilgrims progressively tend to have a fragmented experience where their bodies are physically in the Camino but their minds are often switch-tasking[xxxii] between different virtual realities disassociated from the Camino at hand. Rather than being in the Camino people seem to want to constantly get out of it. It's harder and harder for people to simply be content and be where they are.
MOBILE TECH PILGRIMS HAVE NEW NEEDS and NEEDINESS
"If you have a voice that could have a say in getting this fixed, what the Camino needs is better bandwidth, a larger WiFi zone and more outlets to charge devices." American pilgrim (age 72), Sept 2014, San Juan de Ortega[xxxiii]
In the 1990s there was little to no perception that a Camino pilgrim "needed" a mobile device to do the Camino. Now, in 2017, there's a very high perception that it is necessary to have a phone and that doing so will improve your Camino experience. And, not having a phone is even considered irresponsible. The usual reasons given are safety, information, contact with family and convenience. The presence of mobile tech, and the demand for it, has created a new layer of "needs" for the pilgrim. The question in the 1990s for the needy pilgrim when entering an albergue was "Do you have hot water?" and then it became "Do you have a washing machine?" From roughly 2010 and beyond it became "Is there WiFi?" As more and more accommodations have WiFi (up to 90% as reported by one pilgrim in 2015[xxxiv]) it is less of a question than a given. The new question is simply "What's the password?" or if there is no WiFi some pilgrims will move on to the next albergue. This new need for connectivity also reinforces a layer of necessary "end of the day" tech activities for the pilgrim which requires significant mental engagement and distraction. It's now an invisible weight people are unaware they are carrying but that increases one's mental baggage substantially depending on how one uses it. Also giving people everything they want doesn't necessarily make them happier. It tends to simply make them more needy and demanding.
My TECH TIME
With the fragmentation of the Camino as a global, bracketed mental experience, the sense of the day's routine appears the same but now contains significant differences.[xxxv] As this technology became more accessible from roughly 2009 on in bars, albergues and places where pilgrims gather, people progressively spent more time connecting. Since 2012 when stopping at a bar or a café, pilgrims began to habitually take out phones. Also, when finished walking, settling into the accommodation, and attending to mundane activities like wash, the new normal is to have some "Tech Time". In addition to the tech activities I mentioned above en route or throughout the course of the day, people also spend their free time in the albergues using their phones to play games, watch movies, read books, read and respond to threads on the Camino forum or FB group, Skype a loved one.
How much time people spend online varies considerably but it is a reality for most to spend some time each day. Pilgrims also learn from each other and do what others do. Some people have personal rules to manage their technology. One woman explained to me that she created for herself a "switch-off zone" when she turned off her phone while walking. The rest of the day is still in the Camino but its okay to be tech connected. In general, it's common now to have reduced mental activity when walking and then increased mental activity during breaks and the end of the day.
INCREASE VIRTUAL CONNECTIONS AND DECREASE FACE-TO-FACE CONNECTIONS
Ease of social relations and community building, one's Camino Family (as it's now called), continue to be highly valued among Santiago pilgrims. How people develop and maintain bonds has undergone changes in the Internet Age. Cyclists have lost their "pony express" role connecting waylaid walkers and lost loves. It's no longer necessary in the Internet Age.[xxxvi]Cyclists generally liked this role but this connection point which helped reduce resent between the two groups has essentially been lost. Internet Age pilgrims continue to randomly meet up, form groups and may or may not share contact info. The increased numbers of walkers and accommodations means that it's harder to always run into the same people. When contact info is shared, it's often a mobile phone number, WhatsApp or FB acct, and maybe an email address with the older crowd. To contact another pilgrim, texting is common and meeting up has become much easier. Depending on the information shared, one's anonymity, highly valued in the pre-Internet, is potentially reduced because anyone can access "who you are" through an Internet search.[xxxvii]
Pilgrim community impacted by My Tech Time
Internet Age pilgrims' "tech time" practices increasingly impact the social aspect of the Camino. Pilgrims are less likely to reach out to others, if your social and emotional needs are being met through your device and your virtual connections. In the afternoon and evening, due to bandwidth limitations in albergues pilgrims gather around the WiFi zone, to connect and have their tech time. Pilgrims are increasingly "alone together" borrowing from sociologist Sherry Turkle's work.[xxxviii] One long-term hospitalera in the meseta explained in 2015 how WiFi worked in her albergue in the meseta: Sometimes she would forget to turn on the WiFi in the morning and people would ask her to do. She commented, "they get agitated if they can't get online". She also shared that "As an innkeeper it's great because WiFi is like sweets for kids, a pacifier." She explained that if she wanted some peace and quiet, "I give everyone the password and then they all hook-up, and they get looking at their own individual screens contentedly[xxxix] Potential bonding experiences are missed if you are busy doing something else. [xl]
RELATIONSHIP TO HOME
Going back to pilgrimage as a rite of passage, Leaving Home entailed a physical and mental break and transition between the familiar to the unknown. There was an implicit mutual understanding between home and the traveler that communication would be very limited, irregular and mostly one way (initiated by the Pilgrim). Both Home and the Traveler/Pilgrim accepted these limitations with some exceptions as a normal, and often difficult, part of "going away" and "being left". Leaving might also be a tremendous relief coupled with excitement of going on an anticipated journey with new adventures waiting. There had to be a basic trust and letting go on both sides.
In the Internet Age, the Pilgrim's relationship to Home is radically transformed on the mental level. Physically the pilgrim leaves but typically maintains a more heightened mental proximity to home and the world in general. One common reason given for carrying tech is to allay fears, report back and keep in touch with loved ones. "Worry from Home" projected onto the Pilgrim increases the sense of "needing to be connected" and being "on-call". Pilgrims also want to share their experiences or know about home. That need to constantly reinforce home that all is "okay" is a shift in our attitudes regarding separation in travel. The old adage "No news is good news" appears less and less relevant suggesting that our contemporary virtual relationships have a greater fragility and they need constant, often public, reinforcement.[xli] In addition, pilgrims now receive constant feedback about their experiences from friends, loved ones and unknown audience members. Here once again, we see the blurring between the different phases of pilgrimage. People often experienced a tremendous sense of freedom by going on the Camino. You could be a different person and experience new and different things without judgment or ties or worry about what "home" might think. If you are constantly reporting back, you may inhibit yourself from experimenting with self and others.[xlii]
The sense of Missing and Longing for loved ones when far away can be an important step in realizing their value to you. Connection can provide tremendous support for a pilgrim especially when feeling down, tired, insecure, or lonely. The temptation and the ease with which you can resolve those negative feelings through a phone reduce the need for the pilgrim to look within to find a solution or look around to fellow companions or circumstances. Pilgrims appear more independent but actually become more isolated from their on-the-ground community and more dependent on their phone and virtual community to resolve crises.[xliii] The consequence is self-limitation. People now experience "collaborative pilgrimages" where they never really separate emotionally and mentally from a larger audience with their experiences and remain entangled with home and the world on the mental plane losing self-individuation and self-reliance in the process.
PRE-INTERNET IS NOW DIGITAL DETOX
Curiously, what was a "normal" pilgrimage in the 1990s is now called a "Digital Detox" when someone chooses consciously not to use or bring a mobile phone on the Camino. This type of pilgrimage is rare and considered radical, extreme and even "medieval". My research includes an in-depth interview and correspondence with a Swedish woman who did DD pilgrimages in 2006, 2013 and 2014. One difference between the 1990s and now is that the highly tech -connected mind needs time to settle down and resists disconnection as the brain is accustomed to continuous activity and stimulus. When someone with a high level of connectivity in daily life chooses to not use mobile tech in the Camino, they can experience withdrawal symptoms such as phantom ringing and vibration for days and it can take more than a week for the mind to slow down and allow the pilgrim to feel the power of solitude, open your senses and deeply feel the Here and Now. Another pilgrim who went without tech in Sept 2015 reported on the digital media website Mashable that :
The first days were the hardest. I felt something missing from my hands. I am used to constantly reading emails and news on my phone, so I was anxious. In restaurants, I could not get used to not having my phone on the table. Everyone else connected to the Internet and I felt ignored. I'd go to the restroom or check my backpack.[xliv]
We expect now to be busy all the time, to have our hands and heads occupied and doing something. For many people their phone is their third appendage. We take these same daily life practices unreflectively into the Camino and suggest that we don't know how to be with ourselves without our tech. Camilla, the Swedish detox pilgrim, told me in a 2015 interview:
"When people are bringing computers and iPads they are making it very difficult for themselves to actually get at what I consider to be the real experience. …I'm surprised people don't see this! And "my right to technology" is, you know, so much more important than to the whole Camino [experience]. It surprises me a lot actually because I'm using the technology all the time [in daily life] but for me it's super natural not to try and use it on the Camino, or at least to a minimum."
EXPECTATIONS & TECH
There's been a shift in pilgrim's expectations, often vastly differing, of what the Camino should or might be as a travel experience, a journey and/or pilgrimage over the last 25 years. The Camino as a pilgrimage in the traditional sense implies both an inner and outer journey to the sacred place. There's an understanding that it entails a step into the unknown, the wilderness of the world but most importantly of the wilderness within, the inner places we haven't visited in a long time or may not even know are there. A huge part of pilgrimage can be a confrontation of the self, a willingness to go down the unexplored, rough paths, take risks, overcome fears, experience solitude, loneliness and boredom, and confront discomfort both mental and physical, feel discouragement, desperation or intense joy and ecstasy.[xlv]
Many Internet Age pilgrims are aware of this as a model of the Camino but may not share it as an expectation of their journey.[xlvi] 21st C travelers want to connect and expect to connect. With the rapid advances in cheap, easy to use technology providing instant, real-time information, it's possible to control many more aspects of the day to day Camino experience and thereby keep oneself from feeling as intensely. Tech usage can have a numbing quality on both positive and negative emotions.[xlvii] Mobile devices, headphones, tablets, etc, can help us keep distance from ourselves and others as well as potentially uncomfortable situations we don't want to deal with. Pilgrims have gradually accepted and welcomed these changes for the most part. If you get lost, don't ask someone, look at your GPS or call emergency services. Where to eat? Don't bother exploring the village or town, just check your App for the best pilgrim recommendation or ask your virtual friends in online Forum group. Another major fear managed by tech is for example, "where to sleep". The "not finding a bed" fear generated a lot of anxiety among pilgrims in the 1990s and continues to be a major source of anxiety. [xlviii] One solution that tech and the online albergue system gives the pilgrim is to book accommodation ahead thereby eliminating the worry of where to sleep.
Rather than let the trip unfold organically and face potential adversity as it comes, the trend is to try and control the Camino experience so "things don't go wrong." The old idea of "trusting the Road" is fading away. In exchange there's a growing implicit desire to have what I call a "TripAdvisor Camino", ie, one that has no glitches or problems. With our tech we are able to bubble wrap our Camino and resolve many more points of 'discomfort". This is good but it is also a double-edged sword. The pilgrimage is 'smoother' and with fewer rough parts but it keeps us from exploring more profoundly the wilderness within. We wind up diluting our experiences in the process. People are developing the habit of looking down rather than looking up to resolve basic 'problems' fundamental to the pilgrimage.[xlix] There is an implicit, and at times irrational, trust that what the machine says must be true or is more reliable than our own instincts, observations or what we can learn in face-to-face interactions. We are encouraged by the tech industry to do this. To illustrate this and end the section focused on the "During" stage of the Camino, here is a video by a tech company that has developed a WiFi app for the Camino to guarantee full time WiFi connectivity so the pilgrim can always be connected wherever and whenever .– Video for http://elcamino.tuwi.es/[l] . As rolling voiceover: The advertising tells us: "Do the best Camino with us…We will accompany and do the Camino with you so that it will all be much easier. We offer free WiFi so that you can live your Camino connected to the Internet. "
Our 21st C WiFi connected pilgrim looks down to solve his problems, interacts with no one as people have simply become noise around him, shares his solitary experiences with a virtual audience and never really seems to engage beyond the phone as WiFi fulfills all his needs. Progressively we are outsourcing skills, unthinkable just a few years ago, to our phones and thereby atrophying those abilities within ourselves.[li]
The Arrival in Santiago
Santiago is a transition point (as is Finisterre) between the Road and the Return Home. The Plaza de Obradoiro continues to be a powerful point of arrival and reunion point full of mixed emotions, elation, let down, triumph, worry about the future. Now it's also very common to share the moment with the world.
MEMORY, HOW WE REMEMBER and HOW WE EXPERIENCE THE HERE AND NOW
Now we move to the daily Pilgrim's Mass held at 12 Noon at the main altar in the Cathedral, a long-awaited event and important rite of closure for many pilgrims to Santiago even if they are not religiously motivated. An anticipated event for many people was and is the Botafumeiro censor swung at the end of the mass on special occasions. How we now experience that moment has changed dramatically. In 1994 we witness a sea of people contemplating the event. In 2016 we witness a sea of people capturing the moment.
Seeing how people experience the Botafumeiro through their devices is a good example of how our use of our phones and devices distances us from living them in the moment not just in Santiago but on the Camino in general. Rather than live them and feel them directly we mediate them through our phones by taking photos to share them or store them for future consumption. Or we multi-task our Camino and try to both live, see and feel it but also capture it and share it for others. Unless you focus on one or the other, it's hard to do either one fully and completely. At times our perceived "right" to capture and share moments, can interfere with others' enjoyment of simply being.[lii] Underlying this new trend in how we remember and experience events. We've developed a general distrust of our memories, memories often overworked by minds cluttered with all of our online communications.[liii] Rather than allowing oneself to simply be in the Camino, people have developed a layer of worry that "I need to record it or I'll forget."I have to keep track, rather than just be and trust the internal process. [liv]
REINCORPORATION – THE RETURN HOME
The Return, tends to be the hardest stage to talk about because it's the least discussed and processed. In the 1990s I wanted to address the return – how did the Camino continue to impact people after they were done, if at all? In Pilgrim Stories I present the large spectrum of Return experiences. [lv]
My experience as a researcher on the Return in the Internet Age has been different than the 1990s. One difference is how people respond to me. When the Camino pilgrimage was a contained, whole experience and people didn't have outlets, like they do now, the Camino remained more internal (unless you sought some mechanism of expression art, poetry, publishing a pilgrim's acct). When I asked questions via snail mail (hard to believe but true) I would receive lengthy, deeply felt hand-written letters. Sitting down and writing about their experiences was often therapeutic and participants frequently expressed gratitude for the opportunity to reflect. The responses I receive now tend to be much shorter or in some cases non-existent! In my 2015 survey at the Pilgrim's Office the 37 participants (of 51) who gave me email addresses had a dismal response: only 2 responded when I did a follow-up in 2016. Curiously, one of the two had consciously not taken a mobile device. When I posted a thread about my research on the return in the digital age in 2015 on a Camino forum[lvi], I was met with hostility and suspicion from a couple of members (some posts were even censored!) something that had not occurred when I did the same in 2007 and 2011. The most in-depth and profound responses I've received in my current research are from pilgrims who chose to walk disconnected.
Why might this be? One factor relates to the blurring of the stages (separation, limen, and return) and the mental proximity that is often maintained with home causing the intensity of the Separation and the Return to be diminished. When in constant and frequent contact with home describing the events and getting emotional comfort, there's less surprise, feeling of missing and storing up of experiences that need to be shared. Home is also less surprised by the Returnee, even if they don't really understand what the pilgrim has been through, because in way they've been there sharing photos, comments and stories along with the pilgrim. I mentioned this as the "collaborative pilgrimage."
Another factor relates to how are communication patterns have changed over the last 10 years. On the Camino people share events, selfies, experiences, and emotions parceled out in bits and pieces to a virtual audience who may be giving real-time feedback to the pilgrim. When the return comes, there's less need to share as the pilgrim has been processing and sharing, but in a very different way, all along. Also, once back home, our connected lives simply take over and we move onto the next thing. In my 2015 tech survey many people reported feeling less need to connect while on the Camino and liked connecting less but didn't think much would change once they got home. Social, family and work-related communication including emails, social media, games and other on-line activities are endless. People are so busy keeping up it's harder to reflect and process experiences unless you make a concerted effort.
As the Internet Age advances the evolution of motives, typically found pre-Internet, appears also to lessen and pilgrimages can be more reaffirming rather than transformative.[lvii] It's now common to expect the Camino to be a "great experience" and then it is. For example, in San Juan de Ortega I met a 68 year old woman who gave me her Camino card with her name and Camino contact info (including email). Also printed was the phrase "It's the journey that matters in the end." She already knew before coming that it was the journey that mattered – a common Camino "lesson" of the 1990s. When I asked her to reflect on her Camino a year plus later she quoted from her blog entry written soon after she completed the Camino . The message confirmed the idea on her card and reaffirmed her expectations about what she hoped it would be. It was a wonderful, reaffirming experience but it didn't seem to challenge her to evolve to a new place within herself.
The development of Camino forums, WhatsApp and FaceBook groups, etc in the Internet Age are a major change in the Return experience. These serve as important new outlets for Return Pilgrim to reconnect with other pilgrims, process the return, commiserate about the 'glazed over look' they get from friends and family and to help future pilgrims. The major difference between these forums and on the ground associations is the lack of face-to-face contact and infinitely greater access, upon demand, to the community. Generally, more posting and more likes lead to greater status and you can become a Veteran Poster, respected within the community. The tone of the forum depends greatly on the tone the Moderators and Veteran Posters give to it and this can vary tremendously depending on their level of experience, attitudes about the Camino and beliefs about what the Camino is or should be. For many active participants, membership is an important part of maintaining their connection to the Camino, pilgrim identity and sense of belonging in this enormous, ever-expanding virtual Pilgrim community. [lviii]
Conclusions (5 min)
The Camino and the pilgrims who course its ways are a reflection of the societies and worlds they come from. The world is not the same as the 1990s and inevitably the Camino is not either. Does this mean you can't have a profound experience? Of course not. The important thing to be aware of is how our choices, our intentionality and our way of relating to the Camino, to home, our phone, etc influence a very important element of the journey - extended mental engagement or disengagement. People seek today mental disengagement a "time out" yet find it hard to see how the tech connectivity makes any difference to their overall experience. We seem to be progressively less aware of how these new habits keep us engaged mentally and distracted from where we are. Others embrace the engagement and enjoy the enhanced virtual Camino experience and sharing the Camino with others at large.
I'm struck as I continue to read pilgrims' accounts of what they value most about the Camino and the lessons they have learned along the way. Special face-to-face encounters with others, the power of the human touch, being in nature, and the satisfaction and joy found in simplicity as we lighten our load on the Camino are the qualities of the journey that people crave and remember. Pilgrims of the 21st C are finding and cherishing these same experiences as they did in the 20th C but now there is tendency to buffer ourselves mentally against them via technology. Many times unwittingly our 'independence/dependence' created by technology, potentially isolates us from real time experiences because we're too busy looking at our phones to be where we are and enjoy the many lessons found in silence, solitude and struggle.
People still feel good when on Camino because it stimulates feelings of connectedness. Even if the disconnection is brief or less intense it is positive. Pilgrims return to busy lives a little recharged and lament that real life isn't like the Camino without realizing that you can bring life into closer alignment with the Camino through many small steps. The hazard the Internet Age tech pilgrim faces is resisting the temptation to fill up the gift the Camino gives - freed up mental space- with a lot of distracting noise (most of it junk food for the mind).
Exploring the impact of technology on our life experiences, and something as potentially profound as a pilgrimage, is important. Reflecting on the choices that we make is important and realizing that we have choices is also important. Reflecting on your usage ahead of time, the relationship you want to maintain with home and friends, will allow you to engage in different ways and bring intentionality to the Camino. And, Remember to look up.[lix]
Thank you.
---
[i] http://oficinadelperegrino.com/wp-content/uploads/2016/02/peregrinaciones2015.pdf, Retrieved 10 Jan 2017
[ii] This is what the Pilgrim's Office looked like in 2004-05. I used to hang out there with Antonio, the attendant, waiting for pilgrims to arrive. Don Jaime had his office in the room adjacent to the Office and he would speak with pilgrims upon request. In the busy summer months, people would queue up on the Rúa do Vilar to wait their turn and more attendants were hired. In 2016, the Pilgrim's Office moved location to a large renovated convent on Rua das Carretas below the Parador. A security guard now mans the main door.
[iii] In Pilgrim Stories I trace the 20th C rise of the Camino de Santiago pilgrimage. Up to the 1960s renewed interest largely came from academic circles. In the 1970s 'doing the Camino' meant taking a road trip to Compostela. In the mid-60s a few people, mostly with an academic background, started walking again to Compostela. In ever widening circles these early travelers (cyclists and walkers to Compostela) sought adventure, culture and history, transition away. The focus was on the journey not getting a Certificate. With the growing popularity of the Camino and institutionalization of the Camino in the late 1980s with the development of the Pilgrim's Passports and limits established for the acquisition of the Compostela Certificate, a new motivation for doing the Camino developed and evolved adding controversy within the pilgrim community regarding authenticity – what is and is not a true pilgrim. In general, "more" is considered "better" and "authentic" with less focus placed on content, meaning and outcomes of an individual's experience. It's important to remember that in 1993 Holy Year the vast majority of pilgrims walking to Santiago that applied for the Compostela, started in Galicia and "only did the last 100Km" to get the Certificate but they were also mostly Spanish and probably did it with the desire to 'ganar el jubileo' (earn the indulgences associated with a Holy Year or Jubilee Year) even though it wasn't necessary to walk to earn the plenary indulgences, it was a sacrifice, an act of faith. Now those who "do the last 100Km" are foreigners and not necessarily doing it with the same motivation rather it's what they've heard the Camino is.
[iv] https://www.caminodesantiago.me/community/threads/new-certificate-of-distance-offered-by-the-pilgrims-office.24969/, Comment #5, retrieved 14 Jan 2017.
[v] "To be a pilgrim, one has to make the pilgrimage with a religious/Christian motivation – in a greater or lesser degree. This is generally also combined with a cultural quest. When, added to this motivation, the journey is made on foot (which is the pilgrimage par excellence), by bicycle or on horseback, the Cathedral of Santiago de Compostela has, ever since ancient times, awarded the pilgrim an official document called a Compostela….Nevertheless, the essential things is to make the pilgrimage in the spirit of faith…and this can be achieved whatever the mode of transport. The Church, especially in a Holy Year, opens its doors to all and invites everyone to adopt the spirit of pilgrimage. (italics in original)" From the brochure titled "Holy Year Compostelan 1993" published in 1992 by the Comision Diocesana del Año Santo del SAMI Catedral.
[vi] Retrieved from the Pilgrim's Office's official website, Dec 18, 2016: https://oficinadelperegrino.com/en/pilgrimage/the-compostela/).
[vii] Frey, Nancy L. 2016. Tech Survey on the Camino de Santiago, April 2015 With Follow-Up in March & April 2016.Unpublished article in author's possession. Intentionality has changed for a lot of people since the 1990s – it's now more popular "To have the Experience" and a "Time Out" and less popular as a way to experience culture and history and "to walk in the footsteps of one's ancestors."
[viii] See Crawford, Matthew. 2015. The World Beyond Your Head. On Becoming An Individual in an Age of Distraction. NY, Farrar, Straus and Giroux.
[ix] In 2006 one of the Santiago Matamoros (St James the Moorslayer) images became the politically correct Santiago Mataflores (Flowerslayer). Santiago 'mataflores', to 'deal' with radical Muslim terrorist threats in the Cathedral by not offending Muslims with the image of Santiago slaying Moors. The image is now perpetually covered with flowers up to the horse's flanks so that the slaughtered Muslims are no longer visible. Santiago appears to be riding through a field of flowers, sword raised and ready for action, but no violence. El Correo Gallego, 02 Enero 2011. http://www.elcorreogallego.es/opinion/ecg/santiago-mataflores/idEdicion-2011-01-02/idNoticia-625783/. Retrieved Jan 10, 2017. Another change from the 1990s in the Cathedral are the lack of enormous lines that use to form to touch the column of the Romanesque Portico de la Gloria and the kneeling statue of the "Santo dos Croques". But that ended in 2008 in the name of patrimony conservation as this Romanesque masterpiece is being studied and preserved.
[x] Alison Raju still mentions dogs as a worry in her 2008 edition of The Way to Santiago. Cicerone, p. 36.
[xi] Brief History of Tech on The Camino. One of the last things I wrote in Pilgrim Stories was a prescient quote from Manuel Fraga, Franco's Minister of Tourism and then Galicia's President for many years. In 1997 "he announced his dream to see for 'the Holy Year of 1999 the creation of a virtual [reality] Camino de Santiago, that like the Jacobean route will be made by thousands of cyber-pilgrims from the five continents simultaneously." (Pilgrim Stories, p. 254). In the year 2000 and beyond, the use of the internet to access information about the Camino and engage with pilgrim forums began to take off. As technology improved in this period, slowly increasing numbers of people began to carry mobile phones and other communication devices (eg, laptop computers) with them on the journey. Cyber cafés sprung up in towns and villages along the Camino. Emailing and blogging (a term invented in 1999 from 'web log') became common practice in this period. Pilgrims would spend free time in the afternoon hunting down cyber cafes in town or use the local libraries to connect. Social on-line networks such as Facebook and Twitter became mainstream around 2006 and 2007 respectively with millions of users around the globe. Other social messaging networks, video and photo sharing platforms such as Instagram (2010) and WhatsApp (2009) allow people to have instant connectivity to the internet, email, text messaging capabilities and the sharing of photos and videos at the touch of a button. Wifi and computers in pilgrim establishments (albergues and bars) became common around the same time (2010) making it less necessary for pilgrims to leave the albergue to find a cyber cafe. The development of Smartphones or iPhones, mini-computers that serve as cell phones, cameras and allow complete connectivity to the internet , news, and social media platforms, make bringing technology to the Camino very simple especially where there is free WiFi. Wifi is one of most important features of an albergue now. The Galicia government has prioritized having wifi in all the albergues over putting in adequate public toilets along the trail. Evidently, pilgrims connecting to the Internet is a higher priority than public health. In 2013 Apps (applications both free and pay) started to be developed specifically for the Camino for these devices and by March 2015 one researcher had compiled a database with "70 Camino-specific apps" Private email in author's possession from Robert Nickerson, 21 March 2015). See also Robert C. Nickerson, Mark Austreich, and Jamie Eng, "Mobile Technology and Smartphone Apps: A Diffusion of Innovations Analysis," Proceedings of the Twentieth Americas Conference on Information Systems, 2014. Marketing for these apps aim to make your Camino experience easier and more fulfilling. In only a decade our technology has advanced at a remarkable rate allowing ease of communication and connectivity to the net that was unthinkable only a few years ago. By 2014-15, this technology with improved Smart and iPhones could easily fit in your hand, pocket or backpack and came to be considered an indispensible piece of basic equipment. From Unpublished manuscript – Pilgrimage in the Internet Age by Nancy Frey.
[xiii] Bosker, Bianca, Nov 2016. The Binge Breaker. http://www.theatlantic.com/magazine/archive/2016/11/the-binge-breaker/501122/?utm_source=fbb. Retrieved 9 Jan 2017.
[xiv] Turner, Victor.1969. The Ritual Process. Ithaca: Cornell University.
[xv] This is true, btw, of all rites of passage in the Internet age whether it be the way we experience going to the university, general travel or a study abroad program. In a discussion on "Learning as Loss" JS Atherton describes how rites of passage that are destabilizing 'compel' change vs 'safe settings' which make learning 'possible'. Atherton J S (2013) Doceo; Learning as Loss 2 [On-line: UK] retrieved 19 January 2017 from http://www.doceo.co.uk/original/learnloss_2.htm
[xvi] Diamond, Jared. 2012. The World Until Yesterday. NY: Penguin
[xvii] (http://www.caminodownunder.com/html/classworkshops.html).
[xviii] Camino de Santiago forum thread started Aug 19 2013, Need to Stop Reading this Forum, http://www.caminodesantiago.me/community/threads/need-to-stop-reading-this-forum.19975/ Forum increases anxiety so need to stop Reading. Retrieved Feb 28, 2014
[xix] Valina, Elias. 1992. The Pilgrim's Guide to the Camino de Santiago. Trans by Laurie Dennett. First published 1985 in Spanish. This edition is the 1992 English edition, p. 18.
[xx] For example, the following three books are guidebooks on "how" to prepare and do the Camino: Nilsen, Sylvia and Greg Dedman. 2011. Your Camino - A Lightfoot Guide to Practical Preparation, EURL Pilgrimage Publications (308pp), Kelly, Gerard. 2012. Camino de Santiago Practical Preparation and Background. Create Space Independent Publishing (144pp), and Yates, Sybille and Daphne Hnatiuk. 2013. Pilgrim Tips and Packing List Camino de Santiago: What you need to know beforehand, what you need to take and what you can leave at home. Create Space Independent Publishing (138pp).
[xxi] Don Elías provided the following advice in his "Getting Your Bearings" advice, p. 18: "No anxiety – least of all about distance – should disturb one's peace of mind. Don't approach the journey in a competitive spirit; it is better to get to know the places on the route, their people and their monuments, and to have time to contemplate the beauty of nature. All of this will contribute to a satisfying encounter with others and with oneself." Curiously, as more information has become available it does not seem that people are necessarily less anxious, more well-prepared or better pilgrims but the need to try and control the outcome of the experience (I want to do it right, have a great Camino, etc) by knowing as much as possible ahead of time has increased.
[xxii] What was occurring was the development of a pilgrim identity and feeling of membership in a virtual group with an anticipated shared, future experience together You were cognizant that you might never meet anyone in your Class of 2008 in person but nonetheless you had a virtual mental bond and connection. In other words, you were going through a virtual rite of passage as the Class of 2008 of loosely connected individuals and once you completed your journey you would have the new status of 'having done it' increasing your sense of connection to your virtual Forum community.
[xxiii] This does not occur to the same extent in a Practical Pilgrim Day where your attention and experience is fixed to a particular place and space away from the Camino or simply reading about the Camino or hearing about it from a friend. In this Virtual Camino space it's possible to have experiences and interact with the Camino and pilgrims on the Camino before actually being there.
[xxiv] Frey, Nancy. May 2016. Tech Survey on the Camino de Santiago, April 2015. With Follow-Up in March & April 2016. Unpublished paper in author's possession.To assess the presence of mobile tech devices on the Camino, in April 2015 at the Pilgrim's Office in Santiago I gave a questionnaire and follow-up interview to 51 people standing in line to get their Compostelas. My pool of 51 reflected the general cross-section of pilgrims arriving that day in terms of age, nationality, length of trip, etc. I chose people both using and not using phones as they waited in line. Of the 51, two did not have mobile tech devices with them. It's the new normal to have a phone – a reflection of life in the Internet Age.
[xxv] One example of thousands of packing lists is the following from the blog What Dave's Doing and his 5 Nov 2015 article "My ridiculously detailed Camino de Santiago Packing List: What Worked, What Didn't and Why" http://whatsdavedoing.com/camino-de-santiago-packing-list/#tech, Retrieved 20 Jan 2017.
[xxvi] With increased camera photo quality in Smart and iPhones, it's less necessary to bring a separate digital camera and was waning as of 2015-16.
[xxvii] Frey, Nancy. May 2016. Tech Survey on the Camino de Santiago, April 2015. With Follow-Up in March & April 2016. Unpublished paper in author's possession.
[xxviii] Challenger, Douglas, 14 May 2016, Walking the Camino in the Age of WiFi, http://www.onbeing.org/blog/douglas-challenger-walking-the-camino-in-the-age-of-wi-fi/8653. Retrieved 20 Jan 2017
[xxix] Carr, Nicholas, 2011. The Shallows. What the Internet is Doing to our Brains, pp. 219-20, NY: WW Norton.
[xxx] Hartmann, Thomas. 2006. Walking Your Blues Away. How to Heal the Mind and Create Emotional Well-Being. Vermont: Park Street Press.
[xxxi] "Walking is a form of meditation and it gets us out of our incessantly thinking minds (future-past-future-past) and into the present moment where the world is more focused and where we notice those "signs" we otherwise might miss." Anthropologist Bebee Bahrami in a private email, 27 Dec 2007.
[xxxii] Soojung-Kim Pang, Alex. 2013. The Distraction Addiction, NY: Little Brown, pp. 64-65. He has an interesting discussion on the difference between "switch-tasking" and "multi-tasking" and writes that "devices like cell phones are tailor-made for switch-tasking. They capture your attention by diverting it from something else" ultimately impacting your powers of concentration, p. 65.
[xxxiii] Author's field notes from Sept 2014.
[xxxiv] From blog entry What's Dave Doing? http://whatsdavedoing.com/camino-de-santiago-packing-list/#tech, Retrieved 20 Jan 2017.
[xxxv] As internet technology evolved in the early years (2002-2005) people began to want to connect more regularly with home. Cyber Cafes began to slowly replace public phone booths and telephone shops to make calls. Pilgrims would often spend long hours in the afternoons hunting these down to send off messages. Phones were expensive and the technology to blog and post not user friendly. Progressively, albergues started to respond to the demand and some incorporated coin operated computers. Readily available WiFi and improved Smart and iPhone technology made a whole range of tasks very user-friendly.
[xxxvi] Pre-Internet cyclists had a very important function as "the message bearers of the Camino… serv[ing] an important intermediary function between waylaid walkers, lost loves, hoped for reconnections, and messages of all sorts – the pony express of the past." Field notes, 19 Jan 1995.
[xxxvii] Some nationalities, such as Koreans, tend to remain separate and not integrate as much into the general pilgrim group largely due to language barriers and perhaps cultural attitudes regarding group and individual travel experiences. Their mobile phones help significantly reduce the need to connect with others as they can access answers to questions via Korean Camino help sites and Forums easily. A pilgrim in the 1990s and a long time Camino hospitalero, José explained how once he ran into Korean pilgrims in a daze walking around town because the albergue was closed but their phone information had told them it was open. He described them as being in a bubble and at a loss about what to do. Private field notes, Feb 2015.
[xxxviii] Turkle, Sherry. 2011. Alone Together. Why we expect more from technology and less from each other. NY: Basic Books.
[xxxix] Frey, Nancy. Unpublished manuscript, Pilgrimage in the Internet Age.
[xl] In albergues tensions can arise over limited charging outlets and one of piece of advice from a former pilgrim was to carry a power strip (multi-outlet) as a good way to make Camino friends. Tech usage considered thoughtless can also cause other irritations in albergues when notification pings are left on, people talk loudly on phones or bright screens on tablets and phones light up the dormitory as pilgrims go to sleep.
[xli] Could go into FOMO (Fear of Missing Out) here and the traveler doesn't want to disconnect either for fear of losing touch with the quick pace of relationships. My son, upon returning for one week in Jan 2017 without his phone on vacation, had 23,500 new WhatsApp messages plus thousands of other Instagram and SnapChat to go through.
[xlii] See the work of Jenkins, Kathleen E. 2014. "There's an App for That: Parents and their Emerging Adult Children Undertake Emotion Work on the Camino de Santiago." Presented at the August 2014 meetings of the Association for the Sociology of Religion and the forthcoming 2017 article, Jenkins, Kathleen E. and Ken Sun "Technologies of Intimacy: Families Negotiate Spirituality and Technology in a Sacred Space." Sociologist Kathleen Jenkins has explored the relationships that parents and their adult children have when walking the Camino. One of the patterns of behavior she observed in conflict resolution between a parent and their adult child was the utilization of the phone to mediate the problem. For example, a daughter would spend considerable time texting her boyfriend back home to complain about her mother rather than deal with her mother directly. She was physically in the Camino but mentally at home with her boyfriend much of the time and engaged in "intimate labor" through her phone rather than face-to-face.
[xliii] While generally positive the relationship to home can also be considered a burden. As pilgrims get more deeply into the experience, and the feeling of the Here and Now, the need to connect can decrease. People may get tired of having to report about their journey and may just want to live it. This can cause conflict within the pilgrim who does not want to disappoint the 'audience' or worry home if they don't communicate regularly.
[xliv] Tamara, EJ, 10 Sept 2015, Learning to live without technology on the Camino de Santiago, http://mashable.com/2015/09/10/hiking-the-camino/#1vX_95lGTEqC, Retrieved 20 Jan 2017.
[xlv] And through this exploration of that internal wilderness sometimes we find things we like and don't' like (how we react to a situation, deal or don't deal). Potentially the pilgrim is given the opportunity to then reflect and grow as a person as they confront and react to the challenges the Camino places before them.
[xlvi] And the role of tech in the Camino (however defined) is debated within the pilgrim community. Voices have been raised over the years questioning this role. .[xlvi] Pilgrims motivations, as discussed at the beginning, have evolved. A "time out", an "experience" a "lovely holiday" are popular motives. Participants generally know that it will be physically challenging and usually entail some "roughing it". People also expect now to be connected when they travel. For many people phones are now like a third appendage or an extension of their hand and have become accustomed to reaching for their phones to resolve problems and interact with others instantly. There's also a general assumption that society (and in this case the Camino) should and will meet those tech expectations. From this point of view having a phone, Wifi and decent bandwidth is a no-brainer. For example, the thread from the Camino de Santiago is a good example, Is Just being there enough? https://www.caminodesantiago.me/community/threads/is-just-being-there-enough.29344/#post-247079, retrieved 28 Sept 2014.
[xlvii] Carter.Christine. 2015. The Sweet Spot. Ballantine Books.
[xlviii] Jackson, Roni. Private email in author's possession from 11 September 2015. "There is a tremendous bed shortage right now it seems. I have been incredibly fortunate so far but there is such anxiety among the pilgrims about where they are going to sleep each night and if they are going to find a bed. So many pilgrims I speak to have started booking ahead-almost all of them it seems!"
[xlix] By planning and engaging online as one goes, yes, you ensure a comfortable, secure experience but you also potentially lose opportunities to discover, explore and learn life lessons.
[l] Website: http://wifinova.es/con-wifinova-ahora-wifi-en-el-camino-de-santiago/
Wifinova, company that allows all day connectivity. Connect you to http://elcamino.tuwi.es/ "Juntos hacemos el Camino" meaning ¨Together we do the Camino¨– reinforces idea of collaborative pilgrimages.From website http://elcamino.tuwi.es/, retrieved 22 Jan 2017. Quote in Spanish and translated by me. Here is the original"Haz el mejor Camino con nosotros…Nosotros te acompañamos y hacemos el Camino junto a ti para que todo te sea mucho más sencillo. Te ofrecemos Wifi gratuito, para que puedas vivir tu camino conectado a la red, y compartirlo y sentirlo como más te guste. Contamos con un gran despliegue para tu máxima satisfacción, siendo la red Wifi con más puntos a lo largo del Camino." "Do the best Camino with us…We will accompany and do the Camino with you so that it will all be much easier. We offer free Wifi so that you can live your Camino connected to the Internet and share it and feel it as you would like. We have an ample network for your maximum satisfaction, being the Wifi network with the most connection points along the whole Camino." Read this as video is going: In the website advertising, instead of a journey of self-discovery and solitude, it's now a "shared journey" where you are always accompanied by this virtual entity and community. The advertising video clip is found on YouTube: https://youtu.be/eG4USG-D2X0.
[li] I'm paraphrasing Marshal McLuhan's idea from Understanding Media that tools "numb" the part of the body that they "amplify" and quoted in Carr, Nicholas. 2011. The Shallows, p. 210. Pilgrims also become more needy and demanding when things don't go their way if they are doing a Trip Advisor Camino. There is an expectation that they will and if they don't they find it difficult to adapt. "Gratitude often arises out of conditions of scarcity"paraphrasing Christine Carter, see above. The more pilgrims have the more they believe they should have. There's nothing wrong with this change it's just a shift in expectations about what it means to be a pilgrim on the Camino from the 1990s. There's a growing tendency to go to your phone for information (location, weather report, services) rather than use your observable information at hand.
In a meeting with a well-known in Santiago he told me one of the projects he was thinking about setting up was a 24hour Help Line for pilgrims to be able to call if they have an emergency or are sad and lonely, etc. My instant gut reaction was Why would you want to outsource pilgrim needs to a hotline to someone sitting in a room 1000 miles away? This is a new trend. People want to "help" pilgrims more and more but it's important to carefully analyze what "helping pilgrims" really means. Helping often signifies giving people more tech rather than encouraging self reliance. independence, resiliency and empowerment­. With increasingly more "help" there's a tendency to push the panic button more readily and expect someone or somebody else to resolve your problem as well as think they should rather than do it yourself. People become more needy rather than self-reliant as a result. [li]"Helping pilgrims" ends up meaning encouraging them to outsource their problem-solving skills to their device rather than exercise those skills.
[lii] From my article, 2015, Fuck Your Selfie, unpublished in author's possession.
[liii] We are also aware that home consumers have limited attention spans and consume fragments better than long texts in Internet Age. A huge experience like a pilgrimage is an enormous process of experience, challenge, crisis, reflection, moving on and the way we remember things is disturbed by immediately fixing the memory or event in time and place. It's impacting the way we remember and what we remember.
[liv] The priority becomes sharing and showing the world where you have been rather than simply living the moment for yourself. This existed before in the 1990s, people carried cameras and this was a concern. I discuss in Pilgrim Stories people describing their camera as a burden and one man was relieved when he lost his on the train before reaching the Camino. He would keep it inside. Allow things to unfold internally rather than immediately fix it in time and space. Give self freedom to go through range of emotions and their evolution before putting it out there for external consumption.
[lv] Radical, long term change was unusual. Most people fell somewhere in the middle where the Camino's lessons influenced in direct and subtle ways further actions in their lives and led often to specific changes or actions. The Camino remained sharply in the pilgrim's memory often returning months later and was valued very positively, despite often being unsettling and confusing when your eyes were opened to the realities or hypocrisies of your life. Gratitude towards the Camino and the many gifts received from anonymous people along the way was a common feeling.
[lvi][lvi] Camino de Santiago Forum thread: Tell me about your Return Home
https://www.caminodesantiago.me/community/threads/tell-me-about-your-return-home.31444/ Retrieved 2/26/16
[lvii] Motives also do not appear to evolve in the same way with connected Internet Age pilgrims as in the 1990s. In Pilgrim Stories I describe how motives often evolved over the course of the journey within this bracketed space away. For example, someone might start the Camino thinking it's only a physical challenge and adventure but at the end it would have become an intense spiritual experience. It was much harder to escape from oneself without the handy distraction of tech and consequently the pilgrim was often pulled, despite him or herself, into a powerful and unexpected confrontation with the self. Consequently, rarely did people start and end with the same motives – some kind of inner shift usually occurred.
[lviii] As in the 1990s people still join on-the-ground Friends of the Camino chapters in their local areas, become volunteers or return to the Camino again. The Camino continues to draw people back again and again because they like the way they feel there. "Serial pilgrims" as I identified in Pilgrim Stories, have expanded their horizons and seek out other Caminos and European pilgrimage trails including Rome and Jerusalem once they get the "Camino bug".
[lix] Levi Felix, a Proponent of Disonnecting from Technology, Dies at 32, https://www.nytimes.com/2017/01/12/us/obituary-levi-felix-digital-detox.html?_r=0; Retrieved 12 Jan 2017 I feel similar to the late Levi Felix, founder of the company Digital Detox that sought to help tech-saturated individuals reconnect with their lives, "I love that technology connects us…., but we have to learn how to use it, and not have it use us".
Video: Pilgrimage in the Internet Age
Video of Nancy's talk: The Smart Camino: Pilgrimage in the Internet Age (Jan 2017, London)
By Nancy L. Frey
September 2017
In January 2017, I gave the keynote address at the Confraternity of St James' Annual General Meeting in London titled The Smart Camino: Pilgrimage in the Internet Age. In the talk I briefly review some general changes I've noticed over the last 25 years and then present my research on the incorporation of new media technology into the Camino and how this has impacted being a pilgrim. The rise of the Internet is the single most important change in the Camino during this period and has dramatically impacted how people engage with the pilgrimage experience before, during and after the Camino is over.
The video is long. To help facilitate listening to the parts that are of most interest, I've broken down the video into segments and themes. Please let me know if you have any questions or observations.
0:00-1:00 - Intro to video
1:00-4:35 - Intro about talk and Nancy's 25 years' experience on Camino
4:35-5:30 - Nature of change on Camino
5:30-22:15 - General Changes on the Camino over the last 25 years
• 6:55 - Pilgrim's Office and Statistics
• 7:45 - Numbers
• 8:27 - Sex/Gender
• 8:50 - Internationalization
• 10:11 - Mode of Travel
• 10:50 - Roads Traveled and Development of other routes
• 11:44 - Acquisition of the Compostela Certificate & Certificate of Distance
• 14:18 - Motivations and Expectations
• 16:33 - Infrastructure
• 17:50 - John, the Pilgrim Helper and Red tape
• 18:29 - Equipment
• 19:13 - Invasion of our Attentional Space
• 19:42 - Graffiti & Pokemon Go
• 21:08 - The Cathedral: Security, protecting patrimony and limited access
• 21:33 - What happened to the wild dogs?
22:15-23:38 - Changes related to Internet Age. Tech is a tool but not a neutral tool.
23:38-26:44 - Pilgrimage/Camino is a Rite of Passage with three stages: Prep, During, Return. "While the physical component has remained relatively the same, for most people the mental component has changed dramatically…" The Camino in the Cloud.
26:44 – 35:47 - Stage 1: Preparation for the Camino in the Internet Age. Anxiety is normal. Information overload, we overly complicate the Camino, developing pilgrim identity pre-Camino
• 33:12 - What to take and packing lists
35:52 – 1:02:15 - Stage 2: Being on the Camino
• 35:52 - Outcomes of preparation and spectrum of mobile tech usage
• 38:45 - Experience of time and place impacted, Incorporation of "Tech time"; bracketed time away disrupted, stay inside comfort zone
• 42:56 - Internet age pilgrims have new needs and new neediness; my sacred tech time; increase virtual connections and decrease face-to-face connections
• 47:10 - Impact on Camino community and social relations
• 49:53 - Relationship to Home; the importance of "missing" and "longing"; collaborative pilgrimages
• 53:48 - Digital Detox pilgrimages
• 56:25 - Shift in thinking and expectations about "what is the Camino?"; controlling the Camino and fear management; "not having a bed" anxiety; having a "Trip Advisor" Camino; dilution of the power of our experiences
• 1:00:30 - Tech industry encourages us to trust tech and not ourselves; WiFi App; Progressively outsourcing skills to phone and atrophying those abilities within ourselves.
1:02:15-1:05 - Reaching Santiago – transition point; experiences mediated by phones; losing trust in our memories; capturing moments vs contemplating moments
1:05-1:11 - Stage 3: The Return Home
1:11-1:14:59 - Conclusions
More...
Walking with Focused Awareness
Walking with Focused Awareness
By Nancy L. Frey
December 2015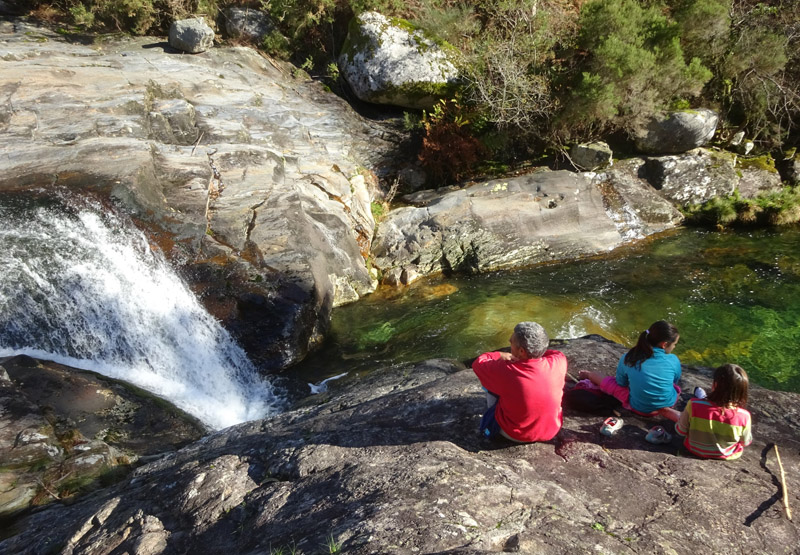 In a previous article I reviewed Thom Hartmann's book Walking your Blues Away and outlined his technique for problem solving when walking. It's a very useful technique and applies a type of focused thinking while walking which often helps to resolve questions you put forth to yourself and even past trauma. When stumped or blocked mentally, it's often helpful to get up out of your chair, breathe deeply and go outside 'to clear your mind'. Many times you return feeling refreshed, renewed and even sometimes with a problem solved or a new perspective.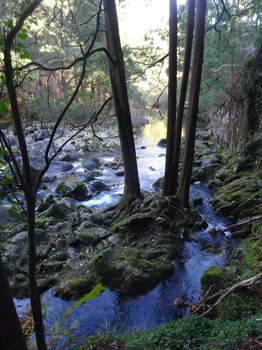 Rather than practice 'focused thinking', I'd like to encourage you to try another type of mental activity while walking which I'll call 'focused awareness'. The idea gets back to the idea of 'clearing your mind', not to create blankness but to clear your mind of unwanted thoughts and focus on your present moment (your body, surroundings, sights, sounds, sensations). It is very common for people to be plagued with a non-stop internal dialogue of random thoughts about past issues or future business/worries to deal with. It's so normal that you may not even be aware of it. I know this is true of me. When I'm out walking I will be surrounded by great natural beauty but my mind puts on mental blinders that buffer me from hearing, seeing and appreciating what is in my immediate present unless I make a conscious effort to focus on the present. I'll find myself playing a rerun of a conversation with a teacher from my kid's school, thinking about the things I have to get done later in the day, debate with myself about whether or not to do this or that, etc, etc, etc. It's a lot of mental noise and when you're paying attention to it, you're not paying attention to the present and what's happening in the moment. You're there physically but mentally you are off in some other place. When you think about it, the mental tapes frequently play boring reruns of themes you've been over many times or push you to focus your thinking on future events thereby taking away from your enjoyment of the moment you are in. Typically these 'problems' don't get resolved, they just follow you around like a bad odor.
I feel deeply connected to nature. It is something I am aware of feeling from my earliest memories: the power and beauty of the natural world. Consequently, at the same time when I'm walking and thinking, I also find myself pausing, breathing deeply and really focusing on something that captures my eye or fills me with wonder. It feels good. I look around, focus and appreciate. Then, another thought pops into my head and the mental noise brings me back inside of my mind and I lose that sense of the present as I float around somewhere between the past and future.
When I became aware that I was doing this (because most of the time we do not realize that we are doing this unless we stop to observe ourselves), I decided to consciously focus on being aware of the present and my surroundings rather than listen to the noise in my head. Essentially this is 'walking meditation,' an ancient practice with many contemporary practitioners. As the Zen teacher Thich Nhat Hanh explains: "When you walk, arrive with every step. That is walking meditation. There's nothing else to it." It sounds so simple and it is for a practiced Buddhist but if you have a typically over-active mind, trained to think and do constantly (like me), it is very, very hard. For me the missing piece to make sense of the simplicity of this concept was "awareness" - awareness of how my mind focuses on the past and future and keeps me from the present. You become aware of these thought patterns by observing yourself and how you think. When you start the internal dialogue, take a mental step backwards and observe your mind. I found Eckhart Tolle's The Power of Now to be very insightful and helpful in this regard.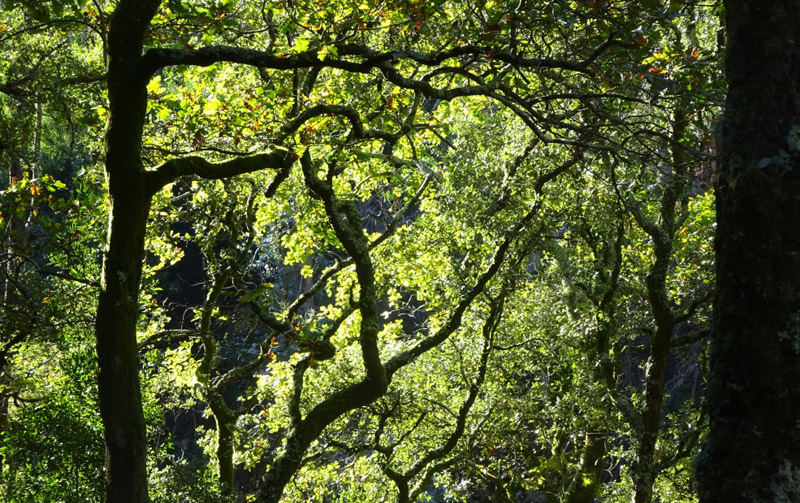 Getting back to the idea of 'walking with focused awareness', the point is to spend more time while walking focusing on the now and less time focusing on the internal, mental dialogue. Your mind will probably try to intrude on your awareness of the present periodically as you are walking. When you realize that you are thinking about picking up the dry cleaning or how irritated you are that so and so didn't answer your email, bring yourself back to the present moment by focusing on what your senses perceive in your surroundings. You will find that when you focus on your present, you will feel more alive and more connected with what is around you. You will see your surroundings differently and perhaps make new, enriching observations because you are attuned to the present moment. You may also find that with practice the barrage of thoughts will recede as you walk and will leave you feeling more peaceful and relaxed by the time you are done.
How to do this? For example, the other day I took a walk while my kids were at music class through a village, down to the beach and along the shore. I decided to focus on as many different sensual experiences as possible. When I arrived in the village there was a funeral service taking place in the parish church. Bells continue to play an important role in Spanish villages and towns to call the faithful and to mark the hours. When there are funerals there is a special, very somber, deep two-beat bell tone that is played over and over during certain moments of the service. As I walked along the shore I heard the bells and decided to focus my attention on the sound of the tolling floating over the water and to listen to the entire length of each note as they faded away and then repeated over and over – strongly and then fading. In normal circumstances, my mind would have blotted out extraneous noise like the bells and I don't think I would have even been aware of them. In giving my attention to the bells, I felt more connected to the ritual taking place in the village and the passing of that soul and the families involved. It also filled me with a sense of discovery: when the bell tolling went from being background noise to the center of my attention, I deepened my understanding and appreciation of them and their role in community life.
My mind wandered, many times, but I would bring it back and focus on something else – my breathing, the pattern of sound my feet were making on the different surfaces where I walked– sand, boardwalk, pavement, different randomly barking dogs from houses on the fringes of the area. As I walked back along the beach I started to focus on the sound of the tiny waves breaking on the shore and listen, like the bells, for the source, where they stopped, where they started, was the sound coming from the left or right? I lay down on the beach for a few minutes, closed my eyes and listened to the waves. I was aware of patterns I had not paid attention to before even though I've spent a lot of time at the shore over the years. It felt good, peaceful. The mental noise took a back seat to the vibrant and alive present rather than vice versa. I focused my awareness on the rocks, the colors of the kelp, the plastic on the beach. The latter set me off on a frustrating internal dialogue about pollution but I brought myself back to the patterns in the water, the gulls flying overhead, the color of the sky as the sun set behind the village….I breathed in deeply and felt the cool, salt air fill my lungs. Further on I wrinkled my noise at the smell of kelp rotting under the sand where I stepped deeply. All of these things helped me enjoy and feel more connected to that moment and made the walk an entirely different experience than if I had just let the tapes play as usual. The walk was about just being – not thinking, analyzing or doing – just enjoying it for what it was. I felt grateful for all the beauty both large and small surrounding me constantly. As I say, my mind would wander off frequently but that's okay. As you become more aware of how your mind wanders, it becomes easier to sense sooner and then you can refocus to something in your immediate surroundings – the birds singing, the way the leaves rustle in the wind, how the breeze feels on your skin, the smell of the damp earth. Awareness in the present is liberating. You can't change the past nor can you can make the future happen sooner but you can enjoy the gift of the now and this is an access point to it.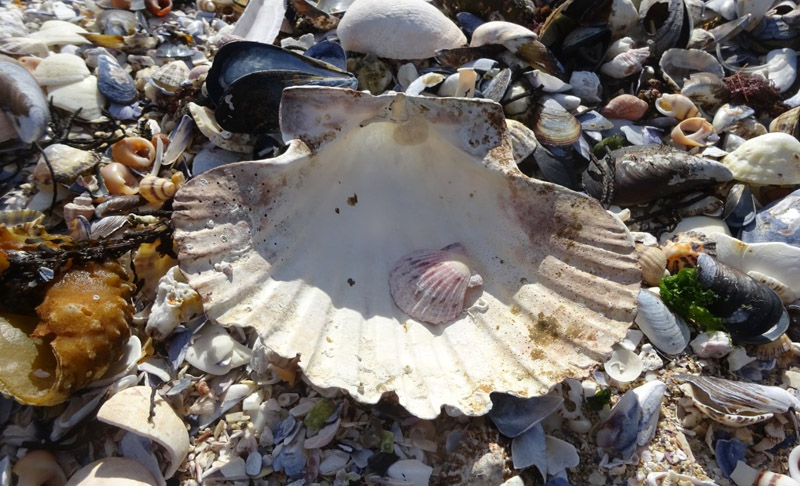 The Camino de Santiago and Walking Your Blues Away
Nancy's Book Review

Walking Your Blues Away. How to Heal the Mind and Create Emotional Well-Being by Thom Hartmann (Vermont: Park Street Press, 2006).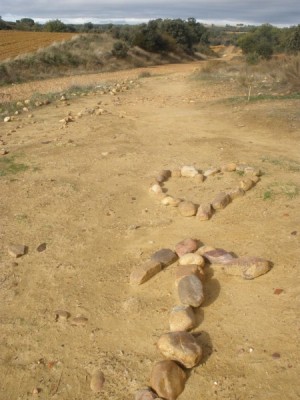 I was gifted this book by a body worker[1] who walked with us along the Camino de Santiago pilgrimage in 2005. After sitting on the shelf unread for at least a year, the right moment finally arrived to crack open the pages. It's a quick read and easy to access. The most compelling parts are when Hartmann discusses how walking is a potentially healing activity for emotional trauma. This concept immediately began to resonate with my own anthropological work on the contemporary reanimation of the medieval pilgrimage route, the Camino de Santiago in Spain, which culminated in my book Pilgrim Stories. On and Off the Road to Santiago (UC Press, 1998). In the late 1980s people from many different backgrounds, countries, walking experience and belief systems (and frequently without a religious motivation) began to take up the traditional symbols of the Santiago pilgrim, the scallop shell and staff, and set out on demanding journeys walking westward across northern Spain (and even the far corners of Europe) to reach the tomb of the apostle James the Greater in Santiago de Compostela. Every year since then, more and more people undertake this walking journey and come home with positive stories of self-discovery, personal triumph, transformation and, even, change.

I found over and over again during my research that many people were led to walk the Camino (a personal journey that can range from one day to four months depending on the walker) to work through their own personal issues. Many were at a breaking point – graduate from college, mid-life crisis, retirement – or had experienced a loss – divorce, death, employment. Whereas many pilgrimage sites, framed within a more religious context, are sought out by pilgrims to heal the suffering body, I found repeatedly that along the Camino, as they walked, people were healing the suffering soul. In Pilgrim Stories, I write:

The journey of the Camino can reveal wounds – loss, failure, fear, shame, addiction – left festering from daily life. Experiences along the way often act as the catalyst that allows them to be exposed. It has been, and appears to continue to be, a road for hopes and miracles of fulfillment of a different order. Some pilgrims, acknowledging this themselves, refer to the Camino as la ruta de la terapia, the therapy route (Frey, p. 45).

Through the walking experience people opened themselves up, usually without any perceived intention on their part, to a whole series of unforced emotional experiences. Time and again, people recounted thinking of people that had not been in their conscious thoughts for years, developing a more active dream life as well as feeling 'more deeply' while on the road.

In my book, I discuss this process of opening as part of the elimination of the distractions/stressors of daily life. When life is reduced to its basics and your mind is not absorbed with the minutiae of running a busy life, full of obligations and demands, all of sudden there is space for feelings, emotions, memories to come to the surface. While walking (though also many times during sleep and dreamtime), pilgrims described to me how they came to new insight, resolution or clarity regarding issues from the past. The walking became a healing process for both known and unknown or conscious/unconscious (prior to beginning the Camino) issues from the past.

In Walking Your Blues Away, Hartmann has added a new dimension to my understanding of this healing process on the cognitive level with his discussion of 'bilateral therapy' – the alternating stimulation of the right and left lobes of the brain 'while thinking of a problem or issue' (p. 30). Stimulating both the thinking and feeling parts of the brain with the bi-lateral movement, the person is able to process the experience in such a way that it is moved from the forefront of memory to the past thereby reducing its negative hold on your psyche. Apparently most of our memories are processed during our REM sleep – another form of bi-lateral stimulation. Sometimes, though, the memories are too big/painful to be worked through in REM. Bi-lateral therapy works to simulate the same type of memory processing so that painful experiences can be worked through and moved into the past. Hartmann explains, "With the walking therapy…in most cases this recognition that the experience is in the past happens during the walk itself. That is the key indicator that the session has been successful" (p. 13). By applying bilateral theory to walking (an activity that requires the constant stimulation of the brain's left and right hemispheres with its side-to-side motion), Hartmann offers an excellent way for people to heal themselves without having to resort to traditional 'talk therapies', or even any kind of verbalization of the trauma or painful memories. He posits that perhaps we have been healing ourselves, since the dawn of time before we had experts – psychotherapists, psychologists, shamans, etc. – by engaging in our most fundamental human activities: walking and thinking.

His work is strongest when discussing the history of bilateral therapies and the application of them to walking based on his own experience and practice. Bilateral therapy has its origin in the development of healing techniques derived from hypnotism first recognized as therapeutic by Mesmer in the 1700s. He describes the fascinating story of Freud's initial usage and success with bilateral therapy and hypnotism before he abandoned this path in favor of psychotherapy when hypnotism was discredited in Europe and America in the 1890s. His middle chapter on cultural bi-lateralism is over generalized and I found it to be an unnecessary distraction to the larger theme.

The last three chapters provide concrete advice on how to utilize his technique not only for resolving past trauma or negative feelings around a nagging issue but also as a means to increase creativity, motivation and physical health. His technique is thoroughly described and is easily accessible to the lay person. It consists of five steps very briefly summarized here (pp. 62-67):

1 – "Define the issue". Figure out what's bothering you and picture it in your head.

2 –" Bring up the story". Flesh out the issue and determine its level of strength inside of you.

3 – "Walk with the issue". It usually takes less than 30 minutes to get resolution.

4 – "Notice how the issue changes". While walking observe how your feelings around the issue shift.

5 –"Anchor the new state". Review the transformation of the feelings to fix it in your mind.

He encourages a positive and optimistic viewpoint and helpfully reminds the reader: "Remember: There is no failure. There is only feedback. Learn from the feedback and continue on." (p. 65)

His ideas resonate with my own observations of how people experienced the walking along the Camino. It was very common for those walking to come to some kind of resolution or decision. Many people wanted to do something more creative with their lives upon return home. Others spoke about returning to the Camino to 'recharge their batteries' – that the walking along the Camino gave them mental and physical energy that they felt lacking in their daily lives. Perhaps it was simply engaging in this process of bi-lateral movement while walking that allowed people to stumble along the path to their own healing process. In 2008 I interviewed a modern-day Camino legend, John the English gentleman who aids wayward pilgrims in his campervan, for a chapter I wrote for Lonely Planet's 7th edition of Spain. He had a nice of way of describing the same process of healing. I asked him why he thought people were walking to Santiago today and he responded :

"My impression is that a very large proportion have suddenly been confronted with a grave problem with home, work, family, career, their physical health or love life…and they are so overwhelmed by their everyday preoccupations that they don't know what to do about it. Walking the Camino is a unique kind of therapy. I call it 'Self-administered Ambulatory Psychotherapy'. Troubled minds heal themselves – by walking the Camino de Santiago. (Spain, 7th edition, article: Camino de Santiago by Nancy Frey, p. 125, Lonely Planet, 2009).

John has also observed the healing quality that is experienced by those who walk this historical pilgrimage path. Intuitively people have sensed that walking to Santiago will be good for them and have heeded that call to go, once again, the 'human speed'.

Hartmann's book and technique will potentially be very helpful to people who walk (or those who don't but who would like to) and who would like to more consciously make their walks productive for healing, creativity and focused thinking. While for many people the bi-lateral movement brings about the healing without realizing it, by having the technique available, it can potentially help people focus on problem solving as well as 'anchor' the new state so that the change is more lasting. In Pilgrim Stories, I write: "While it will not determine outcomes, making the pilgrimage can help the participant on a personal level to 'rework the past' and possibly 'move toward a renewed future' (Frey, p. 46). This sentiment is in essence the point of Walking Your Blues Away – it takes a very basic human activity and explores its great potential for healing and future well-being. Go take a walk!
[1] Thank you Erin Susan Parks for bringing this book to my attention. Erin is the owner of LMT Massage for Optimal Living in the Atlanta area.
Keeping the Camino Flame Alive in your Heart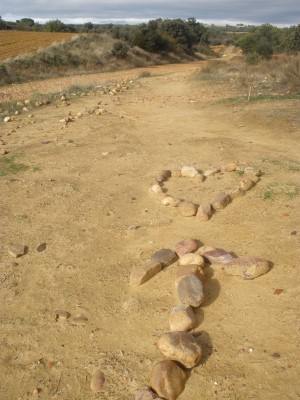 To those of you who are missing the Camino, here's one way to keep the Camino fire burning in your heart in your daily life. Remember: the Camino is now within you. The Camino is a literal space you go to but once you are there, it starts to grow and imprint itself upon your inner being. It becomes a landscape within. On your inner Camino there's a rich storehouse of memories, smells, sensations, hardships, triumphs, disappointments, joys, insights….You can return to this Camino anytime you like and draw on the power of those memories and experiences to give you strength in the here and now. No one can take that away from you.
How do you access your inner Camino in your daily life? Make time to take a walk, preferably in nature. Go with intention and keep yourself attuned to your surroundings (ie, take out the ear buds and disconnect your phone). Before you start, visualize a Camino memory or place that you particularly like and start walking, keeping that memory in mind. Give yourself at least 30 minutes. The Camino will come back to you. Let go and allow your mind to do what it does naturally: as you walk memory will flow and you will be on the Camino again. If your mind starts to wander off your inner Camino you can gently redirect it back to the initial memory/place. You may be surprised where your inner Camino will take you. Sometimes those inner miles that you walk will take you the furthest.


The Camino is Life Affirming
The Camino is Life Affirming
Nancy L. Frey
25 October 2016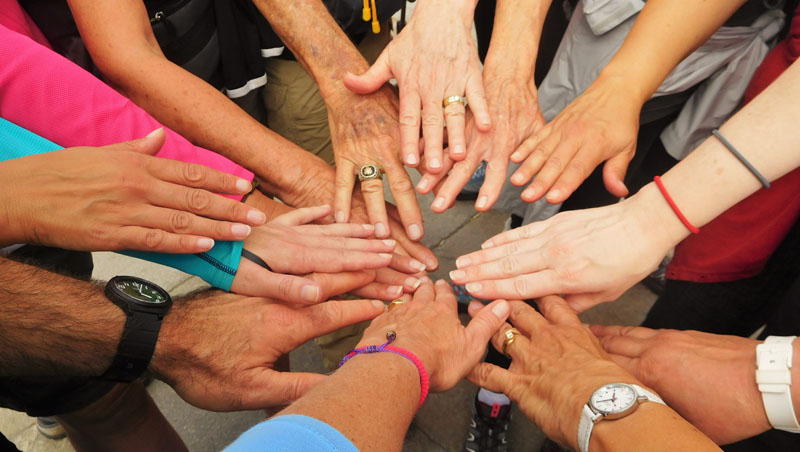 Life affirming. That was how one woman described what the Camino had meant to her. Looking at this photo of our hands held together upon arrival in the Plaza de Obradoiro, I feel that sense of affirmation strongly. Each person comes to the Camino at a different age, stage and place in his or her life and this is clearly shown through how different our hands are. Some are smooth and unblemished. Others appear wise with age and work. Some come adorned and others plain. A week ago most of those hands had little relation to one another. Now, though, by the end of the week those hands created, as one person put it, a quilt of experience together that will endure and give warmth for a long time to come. Many people claim that the Camino changes you. It can but I think that's a very big expectation to have before starting. More often I see the Camino opening eyes and doors to possibilities. Challenging people in a good way physically, emotionally and psychologically. Creating opportunities to question attitudes, beliefs and actions. It can be a doorway to the self, others, nature, something higher and/or deeper. People feel good on the Camino. They also feel exhausted, worn-out, and sometimes struggle to get through each day. Sometimes it's precisely that adversity paired with simplifying one's life, as you do when on the Camino, that makes people feel vibrant and connected with something fundamental about the human experience. The Camino often gives the pilgrim the gift of clarity and insight into what is most important in life. Time and reflection, though, are necessary to bring those gifts home and into one's heart and actions. Our hands together in common purpose are witness to the life affirming reality of the Camino and the continuing possibility of what is yet to come once we return home.