Displaying items by tag: Camino
Friday, 22 March 2019 19:10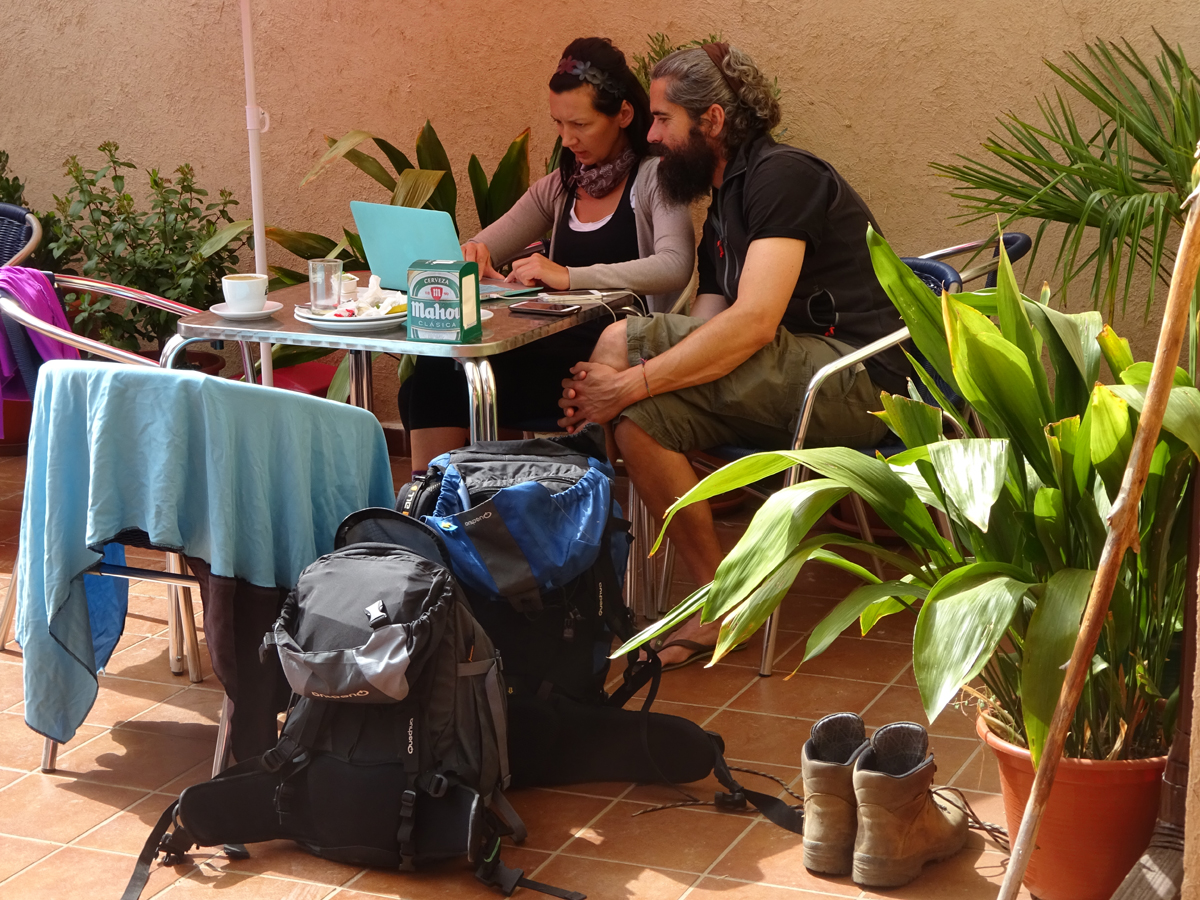 Photo: Pilgrims taking a break, May 2015 along the Camino Frances

Mobile Technology Survey on the Camino de Santiago, April 2015 With Follow-Up in March & April 2016
By Nancy L. Frey, PhD, 22 March 2019

Mobile Technology Survey Project: Why?
From 2008 on I began to observe on my frequent trips on the Camino de Santiago that people wanted to connect to the Internet while on pilgrimage. As the years progressed and internet and mobile technologies evolved, it became apparent that use of mobile devices on the Camino was becoming generally more normalized. I wanted to confirm this observation by conducting a survey and finding out just how frequent and extensive mobile technology use was in practice. The purpose of this research was to establish on any given day in 2015 general mobile technology habits and attitudes among a random population of Camino participants arriving at the Cathedral's Pilgrim's Office in Santiago de Compostela, Spain.

The research for this paper was conducted between April 2015 and April 2016. I analyzed the data and wrote the paper between April 2015 and May 2016. I have not sought publication for this research and analysis because my intent was not to publish an academic article but to use the data I extrapolated from it for my own work on the impact of the rise of the Internet on the pilgrimage experience. It is not written with an academic voice nor does it follow a strict academic style. I have revised and edited the May 2016 version of this Mobile Technology Survey paper and made it easier to read in March 2019. I also sent the May 2016 version of the survey analysis to several interested academics.[1] Results from the 2015 Mobile Techology Survey were utilized in my Keynote Address at the Confraternity of St James in London on 28 Jan 2017 entitled "The Smart Camino: Pilgrimage in the Internet Age". I have made that talk accessible in both print and video format on this website under Research:Text Video
To facilitate reading this article I have broken down its various component parts into PDF documents to easily download.
Main article: Mobile Technology Survey on the Camino de Santiago, April 2015 with Follow-Up in March and April 2016

Supporting Documents:
*The survey I created and administered in English and Spanish - 2015 Technology Usage Survey English and 2015 Encuesta Electronica en el Camino, Espanol
*I tabulated all of the results of the 51 surveys and placed them into a table: Table of Response, Mobile Technology Survey
*In addition to the surveys, I also conducted up follow-up interviews with many of the participants. In this file there are additional responses provided during the administration of the survey: Follow-Up Interviews During Mobile Technology Survey Administration
*I conducted a one year follow-up with the group of 51 participants. These are the results from the 2016 follow-up: One Year Later Follow-Up Mobile Tech Survey
In the anonymous survey, 51 pilgrims participated and were asked to provide basic data about themselves, how they prepared for the Camino, whether or not they carried a mobile communication device, how and when they used the device(s), any rules they established for themselves regarding tech, the impact of their personal and other participants' utilization of tech and finished by asking about motives for going on the Camino, their evolution and what the experience meant to the participant. An additional Follow-Up Survey was conducted one year later (March and April 2016) by email to the participants who provided emails and the results are also reported.
Summary of Conclusions
In sum, the survey demonstrates that by 2015 the presence of mobile technology in the Camino is extensive and participants who are on the Camino are very tolerant of its presence. The expectations that people bring with them about "what the Camino is" or how a pilgrim "should act" in the space of the Camino are not universally shared related to mobile technology. Both positive and negative aspects of mobile tech use, as reported by participants, are discussed and explored. Perception of participant mobile tech usage varies (less, the same or more on the Camino) from real usage on the Camino and these variations are explored as well how and when mobile tech is employed. It was common for people to find themselves using mobile technology "less on the Camino" than in normal life due to personal limitations, WiFi limitations and because "it just happened". A special section is dedicated to Facebook as this was cited as relevant for 15 of the 51 participants. A substantial discussion is included on participants' motives for doing the Camino as well as the observation that motives no longer appear to evolve as they did in the 1990s. The main motive given for doing the Camino in the 2015 survey group falls under the category of "experience" where the Camino is an "experience" worth having. In terms of what the Camino means to people, there is a strong focus on the pilgrimage as an "inner journey" (i.e., time for contemplation, reflection) and supportive of the self but appears to be less oriented towards "others", i.e., community-oriented despite people enjoying the ease of relations on the Camino.
[1]I would like to give special thanks to Professor Robert Nickerson at San Francisco State University in the Department of Information Systems, who generously read the survey and encouraged me to turn it into a publishable, academic article in 2017. He encouraged me to make numerous modifications to transform the piece into a proper academic paper. While these suggestions were excellent, I wanted to keep the raw data visible to those interested in going deeper and to keep the researcher's voice active in the process of administering the survey and the subsequent analysis of the data. His research also explores mobile technology usage on the Camino de Santiago. See for example his article:
Nickerson, Robert C. and Eng, Jamie, "Use of Mobile Technology and Smartphone Apps on the Camino de Santiago: A Comparison of American and European Pilgrims" (2017). 2017 Proceedings. 20. https://aisel.aisnet.org/capsi2017/20
Saturday, 31 August 2019 13:37
In Praise of Walking
Nancy L. Frey, PhD
31 August 2019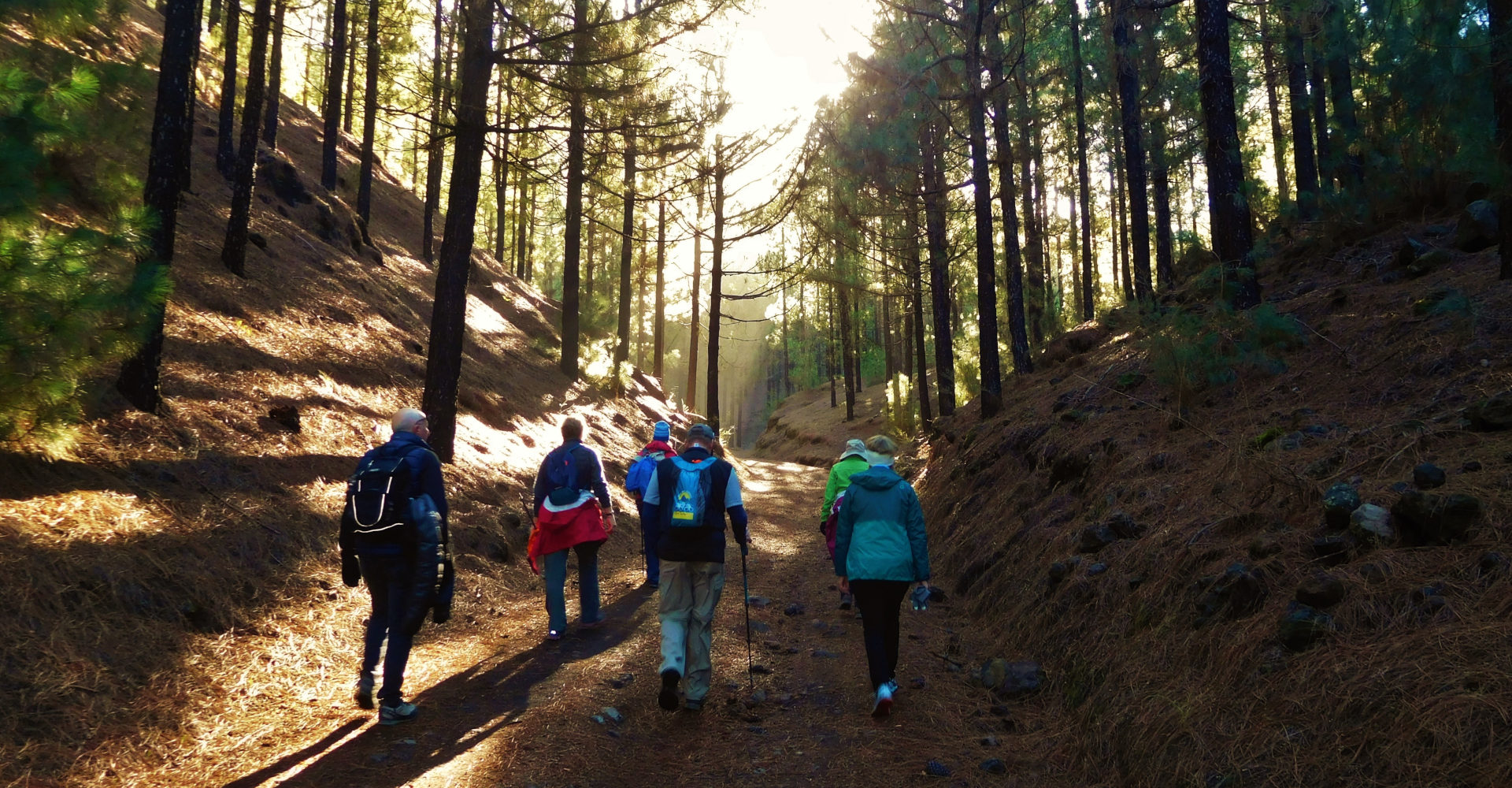 After leading people on walking tours for the last 20 years I have absolutely no doubt about the positive impacts that walking can have on someone's body, mind,soul and emotional life. Walking is healing, it feels good, it brings people together, it allows for solitude, reflection, contemplation as well as necessary space for sharing of experiences and mutual support as people join their steps with one another and listen to each other's stories. I feel very blessed to have been part of such an extraordinary effort of walking over so many years.
The stories of grief, hurt, losses of different types that have been worked out on the way as well as joys and triumphs keep us coming back to repeat what we do over and over again. It is a beautiful calling in life to walk with others and to share with them an essential part of the human experience - being in nature, seeing the world at 3mph/4kmph, feeling, opening our senses and opening ourselves to whatever comes from within or without. It's a leveling, non-competitive experience (at least the way we do it with our clients) that let's people just be who they are.
Sometimes we get lost. Sometimes we hurt and feel confused. Sometimes we laugh at memories, jokes, shared experiences. Sometimes we marvel at the unexpected. Sometimes we are capable of simply being and feel arrested in our steps by the call of a bird or a particularly beautiful flower or even an unusual bug we've never seen sitting on a beautiful flower. Walking has the power to bring us to where we are, to be where we are and to enjoy where we are. And the feeling of fulfillment in doing so is powerful and intoxicating. Everything tastes better, feels better and looks better after days of walking. People often regret the end of the journey and knowing that their care-free days of walking will come to an end when they have to return to the drudgery of life's routines. Keep walking!
At home you can find these beautiful moments too through walking. Though different than being on the Camino or a with a friendly group of fellow walkers in another inspiring place, they are still soothing to all parts of your body and mind!
Our On Foot in Spain t-shirt has the motto: I walk therefore I am. Thinking, of course, is an essential part of who we are but often we do a lot of over-thinking in our lives and walking can help us get beyond our thinking selves (and our unhelpful fictions we love to replay in our minds constantly) and to access other inner and outer worlds that bring enormous amounts of benefits on all levels of our person. Moreover, it's free, doesn't require any gadgets and is something everyone can do who can walk. Walking is a skill we started mastering very young in our lives and it is never too late to start walking again.
Click here on this link Walking to Presence where I have highlighted a few books written by people from very different backgrounds (a philosopher, a historian, a Buddhist monk, and a neuroscientist) all recommending the benefits that this simple human act of walking can bring to you. Just keep walking!